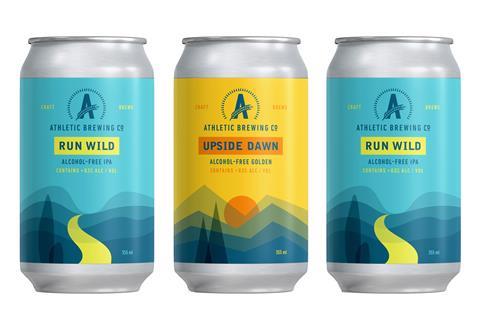 US non-alcoholic beer brand Athletic Brewing Co has made its UK debut.
The brand has launched with a duo of alcohol-free beers: Run Wild IPA and Upside Dawn Golden Ale.
The former is billed as "the ultimate session craft beer" and is brewed with organic Vienna mal and a blend of five Northwest hops said to give it "an approachable bitterness and classic piney, citrusy aroma".
The latter, meanwhile, was a "light-bodied, refreshing and balanced" brew made with English and US hops "that add earthy, spicy and citrusy character".
Athletic Brewing Co has also signed up to sponsor the South West Coast Path project, which works to preserve trailways and natural spaces in Somerset, Cornwall, Devon and Dorset.
The brand wanted to "create a drink that would give people an option to commit to their healthy lifestyle and not miss out on the refreshing craft beer experience", said its co-founder Bill Shufelt.
The brand will be exhibiting at the inaugural Low2NoBev show – run by The Grocer's publisher William Reed – at London's Old Truman Brewery on 9-10 June.