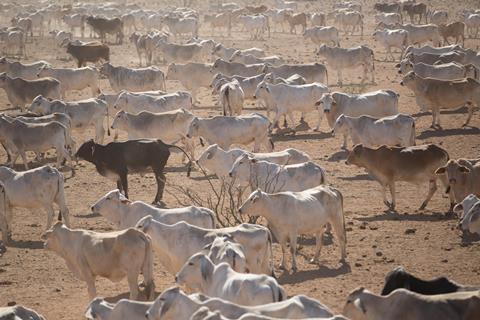 Australian meat exports will benefit from tariff-free access to the UK immediately after the new trade deal is signed, according to details released by the Australian government.
The British government sought to address farmers' concerns yesterday (16 June) by saying they would be protected by "a cap on tariff-free imports for 15 years using tariff rate quotas and other safeguards".
But Australia's trade ministry said in its own announcement that beef tariffs will halt after 10 years with a duty-free quota of 35,000 tonnes starting immediately. This will rise to 110,000 tonnes in year 10.
The UK imported 1,766 tonnes of beef and veal from Australia in 2019, according to HMRC figures, meaning under the new arrangement Australia could export 20 times as much beef and veal in year one before incurring tariffs.
Sheep and lamb tariffs will also be eliminated after 10 years, with exporters getting access to a duty-free quota of 25,000 tonnes immediately. This will rise to 75,000 tonnes in year 10. The UK imported 8,537 tonnes of Australian lamb in 2019.
Sugar tariffs will be eliminated over eight years, while dairy tariffs will last five.
Emily Thornberry, shadow international trade secretary, said the terms of the deal could set a precedent for future agreements and "send thousands of farmers to the wall".
Irish farmers also raised concerns their beef could be muscled out of the British market. Tim Cullinan, president of the Irish Farmers Association, said "any loss of shelf space would be very damaging for our livestock farmers".
There are doubts however over the probability of a surge in Australian exports. Australia mainly exports its beef to China, Japan and the US at higher prices than the UK now imports, according to AHDB data, "so why would they divert significant volumes of product to the UK?" questioned David Swales, AHDB's head of strategic insight.
"Even in a free-trade scenario I wouldn't expect our market to be flooded by Australian product. This isn't to say there won't be an impact, as even a modest increase in supply will have a price effect," he added.
Concerns have also been raised about a lack of detail on animal welfare and environmental safeguards in the agreement. Downing Street said further details will be released in the coming days.
The WWF previously noted the government committed to ensuring British farming improves its environmental impact, and "a rushed trade deal with Australia could drive a coach and horses through those efforts," according to WWF UK CEO Tanya Steele.
Australia has the highest rate of deforestation among OECD countries, leaving it as the only developed nation on the WWF's list of global deforestation fronts.
However, a 2010 study found some Australian sheep farming generates 40% less carbon than UK production. Australian beef produces about the same amount as British beef, and 25% less than Irish.