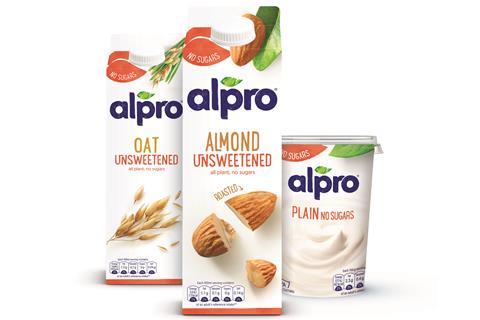 Alpro has become the first UK plant-based brand to achieve 'outstanding' B Corp status, following its "sustained innovation strategy and ongoing environmental commitments".
The dairy alternative giant has moved up from the 'great' ranking it achieved three years ago, placing it alongside wholesaler Cotswold Fayre and Divine Chocolate as the only UK food and drink businesses with the B Corp ranking. Only B Corp's 'extraordinary' status is higher, however, there are no food and drink businesses with this accrediation thus far.
The reclassification follows the launch of Alpro's 'Feeding our Future with Plants' strategy last September – which lays out its plan to become a climate neutral business by 2050. It meant Alpro was now in the top 13% food and drink B Corps globally, as well as the top 17% of all companies worldwide.
Key drivers behind the upgrading of its status include a variety of actions at Alpro UK's Kettering facility, which now operates a zero waste to landfill policy, using 100% renewable energy.
Alpro said the site had reduced its energy consumption per product (MWh) by 45% since the year 2000, and cut its water usage by product across Europe by 45% in the past 10 years.
The business has also committed to reduce carbon emissions by 30% by 2025, to reduce water usage by 60% by 2025 and to invest in biogas to switch to renewable energy.
"We are beyond thrilled to have achieved such an improvement in our already impressive B Corp status," said Alpro general manager Sue Garfitt.
"As a B Corp business, what really sets us apart is the fact that, in our strategic decisions, we consider the health and sustainability of all our stakeholders – employees, shareholders, the community and the environment. This positioning really strengthens our overall 'One Planet. One Health' vision, which emphasises our belief that the health of people and planet are linked."