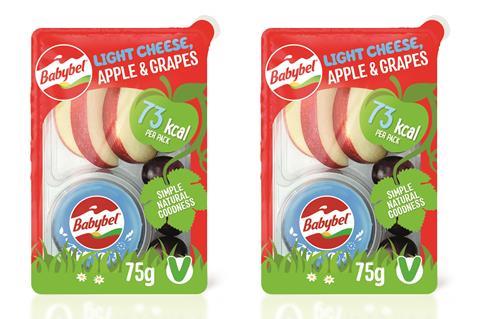 Cheese brand Babybel has partnered with fresh produce grower Jupiter Group to launch a new snacking format with Babybel Light Cheese, Apple & Grapes.
The snack pack, which combines a wheel of Babybel Light alongside grapes and apple slices, launches this week into Tesco food-to-go fixtures (rsp: £1/75g). With just 73 calories per pack, the NPD adhered to Public health England's recommended 100-calorie cap for snacks, said brand owner Bel UK.
Available both as a standalone item or as part of Tesco's meal deal, the product met a growing demand for 'healthy snack' or lunchbox options, Bel added, citing a 110% increase in Google searches for the term over the past year [data from medical advice service Flawless.org].
The snack was also rich in protein and source of calcium, Bel added, "making it the perfect grab-and-go snacking option for adults and kids alike, as busy lives resume but health remains firmly on the agenda".
"We are excited that Jupiter were keen to work with Babybel to bring Babybel Light Cheese, Apple & Grapes to the market," said Bel marketing development manager Jennie Dettmer.
"This launch is set to drive incremental sales by catering to consumers' interest in healthy snacks," she added. "At 73 calories and a refreshingly natural new choice in food-to-go, it makes for a great complementary snack to a sandwich or salad or a perfect little standalone option.
Jupiter CEO Mark Tweddle said: "Combining Babybel Light with our apples and grapes is sure to be a firm favourite for consumers when reaching for a nutritious snack.
"It's exciting for Jupiter Group to be in partnership with the renowned and iconic, red wax sealed cheese snack."
It comes as Bel has also launched a limited-edition football pack to coincide with the Euros, featuring 20 flags of most of the nations competing in the tournament.
The limited-edition packaging is available until 11 July and will appear across packs of six, 10, 12 and 15, Original and Light variants.
Packs also carry wording promoting Babybel's #ForAllFans equality campaign and a competition offering shoppers the opportunity to win one of five £1,000 donations for their local sports team.