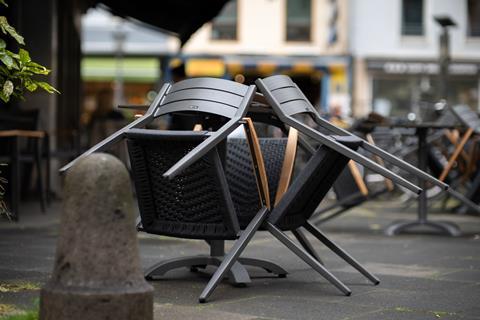 Foodservice wholesalers have received the strongest sign yet that their year-long campaign for sector-specific Covid support may finally be answered.
PM Boris Johnson yesterday told parliament wholesalers had "fallen through the cracks" in the government's plans, and later Defra secretary Victoria Prentis told MPs on the Environment, Food & Rural Affairs (Efra) committee ministers were "very aware" the sector had not benefited from the same support as other areas, such as pubs, restaurants and retailers.
Both Johnson and Prentis appeared to suggest help for wholesalers, most likely in the form of business rates relief, could be confirmed in Chancellor Rishi Sunak's Budget next Wednesday.
Prentis acknowledged to the committee wholesalers were suffering from difficulties with debt, holding stock they can't sell and volatile costs.
"We are conscious that in anticipation of the reopening we need to support this sector to enable them to do their best for the supply chain," said Prentis. "We've enhanced engagement. We're really stepping it up and we are looking at what is required… but I am aware they have been calling for business rates support. I will be watching the Budget very closely next week."
Earlier the PM said there would be "more certainty from the chancellor next week" after acknowledging to MPs wholesalers had missed out on support.
"I am acutely aware of the businesses that have fallen through the cracks, as it were, wholesalers for instance who find it difficult to qualify under one scheme or another, we are doing absolutely everything we can to make sure we give the support people want."
Further talks between wholesale representatives and Defra are set for Thursday, with the financial support they need on the agenda.
The Federation of Wholesale Distributors launched a petition demanding support for wholesalers last week. So far it has received almost 6,500 signatures.
"We were pleased that Minister Prentis has finally recognised the important role of wholesale in the food supply chain, after her disappointing comments to the committee last month about it being 'too early' to offer support to the sector," said FWD CEO James Bielby.
"As the minister noted, FWD is in regular dialogue with Defra and we continue to push for business rates relief, support for excess stock created by government U-turns, and specific help for wholesale as we look to the restart. We will continue to do so until the sector gets the support it needs."
He added: "It's reassuring that the PM is 'acutely conscious' of the lack of financial assistance his government has given foodservice wholesalers throughout the pandemic.
"This illustrates that our case has been made at the very highest level. What we need now is for the PM and the chancellor to turn those promising words into long-overdue support in next week's Budget, with the announcement of grants and business rates relief for wholesalers."
"However, our members' experience of previous lockdowns and U-turns means they'll be cautious about investing ahead of each scheduled opening date. Those who distribute to the hospitality sector can't afford to foot the bill yet again for government dithering.
"We saw several times last year how short-notice changes disproportionally impact wholesalers, who have to stock up in advance of demand. What we need from government is at least two weeks' notice if it has to deviate from the roadmap at any stage, or if that's not possible, a consideration for the cost of the excess stock that will go to waste as a result of the late changes.
"With hospitality not fully open until June at the earliest, the drain on foodservice wholesalers' cash reserves will continue, and they are already nearly exhausted. They need cash to stock up, and they need it soon, starting with an announcement of support in next week's Budget."