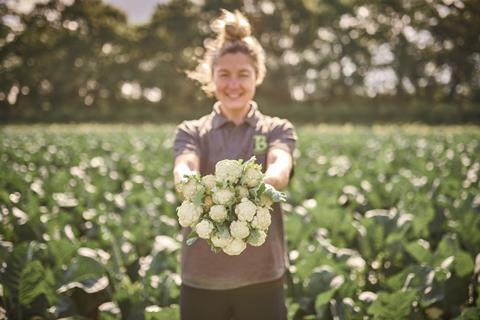 Major veg producer Barfoots has launched a new cauliflower product it hopes will emulate the success of Tenderstem broccoli.
CauliShoots, which rolled onto Ocado last week, carries a similar look to Tenderstem with a long green stalk topped with a cauliflower floret (rsp: £2.00/250g).
The whole product is edible, providing convenience while limiting food waste, offers a high fibre content as well as vitamin C and boasts a sweet and nutty taste, Barfoots said.
Developed in partnership with seed developer Syngenta, the NPD is set to have a UK growing season which runs between June and October with Barfoots' Spanish operation supplying it for the rest of the year.
"Traditional cauliflower has seen quite a resurgence over past years, correlating with trends in vegetarianism, veganism and, of course, healthy eating. It's also experienced innovation with the likes of cauliflower rice and couscous being used as 'lighter' alternatives [to rice]," said Barfoots brand and marketing manager Kim Barfoot-Brace.
"As one of the main growers of Tenderstem broccoli, we saw an opportunity to create an equivalent for cauliflower [that's] easy and convenient to prepare, completely edible and aesthetically pleasing on the plate."
According to Kantar data from The Grocer's fresh produce category report, cauliflower sales have boomed over the last 12 months. Volume sales leapt 16.8%, while value sales grew 7.1% [52 w/e 18 April 2021].
But despite great success in retail, growers have warned the industry is in jeopardy owing to an accumulation of issues ranging from the sector-wide shortages of seasonal labour and HGV drivers to a dramatic rise in machinery and fertiliser prices.