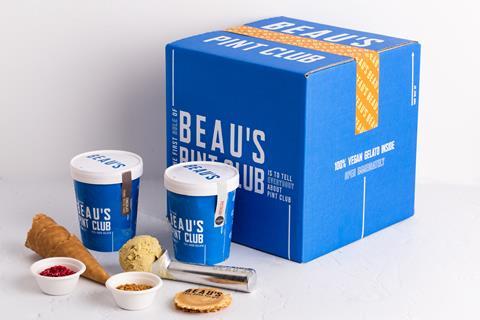 Plant-based ice cream start-up Beau's has netted a £400k investment to open a manufacturing facility and launch a subscription service.
The fully vegan factory – based in the North East of England – will allow the supplier to "greatly increase" its production capabilities, as well as seeking a wider range of market opportunities, including white label.
Beau's also used the money to tap the growing demand for plant-based foods and online delivery with the launch of what it claimed was the UK's first vegan ice cream subscription service, Beau's Pint Club.
Pint clubs are a tried-and-tested concept in the US, with a dessert box of gelateria-quality ice cream, along with additional toppings, cones and other extra items, delivered to subscribers each month.
Retail and foodservice launches are also lined up for the summer.
The investment round, involving angel investor network Tricapital and VC firms Dismatrix and Northstar Ventures, follows an initial fundraising in 2019 to help the business develop its products ahead of launch.
"Beau's plans are far-reaching and innovative, and I'm delighted to lead such a talented team to grow the business and bring quality vegan products to the mainstream market," said CEO and founder Joseph Eyre.
"We believe that we have a product that can appeal to vegans and non-vegans alike, making it a perfect option for families with mixed dietary preferences to explore. Beau's Pint Club is just the first step in bringing quality authentic vegan gelato to a much wider audience."
Beau's gelato is manufactured in-house and contains 100% natural, whole-food ingredients, such as cashews and fresh lemon juice, with no artificial flavours.
"We believe that the ice cream typically available to UK consumers could be a whole lot better," added co-founder and CCO Amber Fox-Eyre.
"We're looking to set a new benchmark, not just in terms of quality but also in terms of sustainable practices."