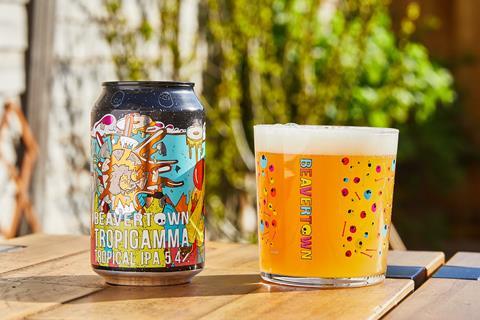 Beavertown Brewery has rereleased its tropical take on Gamma Ray for summer.
Called Tropigamma Tropical IPA (5.4% abv), it was originally released on a limited run in 2016, but it is available again due to "popular demand", said Beavertown.
It is billed as having a "unique blend of guava, pink papaya, mango, mandarin and peach flavours".
The beer's "unique flavour" came from adding fruit pulp to it during the fermentation process, said Beavertown.
Its tropical flavours made it "the perfect brew for sipping in some much-needed sunshine", it added.
It is available to order online in single 300ml cans (rsp: £2.50/330ml) or cases (rsp: £55/24x330ml).
The launch follows Beavertown's recent unveiling of its first alcohol-free beer, Lazer Crush, in October.
As reported in The Grocer, it was "created to provide an uncompromising-tasting craft beer for those looking for a no-alcohol option", said the brand.
Last year saw Beavertown open the doors of its massive new brewery in Enfield, called Beaverworld.
Development on the 129,000 sq ft site started after Beavertown sold a 49% stake to Heineken in 2018, which won it a £40m investment in the new brewery.