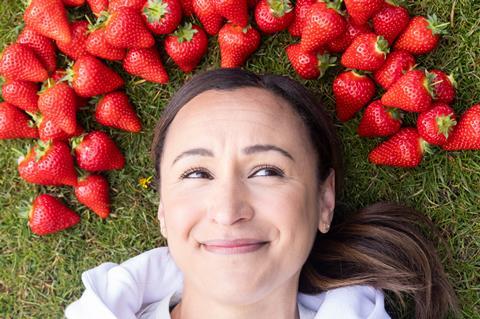 Olympic champion Jessica Ennis-Hill has teamed up with Berry Gardens for the own-label supplier's biggest-ever campaign, promoting the health benefits of soft fruits.
The former heptathlete will be the face of the six-figure 'More Than Taste' push – which Berry Gardens described as a first for the UK soft fruits industry.
The campaign, which coincides with the run-up to the delayed Tokyo Olympics, will include hyper-targeted digital advertising, out-of-home, social media and influencer activity, and consumer and trade PR.
It will aim to convince shoppers of the health benefits of Berry Gardens' specific berry varieties, such as Driscoll's Zara strawberries, and urge them to integrate soft fruits into their diets.
'More Than Taste' could be a "game-changer" for fresh food in terms of the impact it could have on consumer interaction with the category, Berry Gardens claimed.
"No celebrity of Jessica's calibre has ever endorsed fresh food before, which seems a missed opportunity given how many of the great and good say fresh foods are the products consumers should be eating more of," said Berry Gardens commercial director Robert Harrison.
"It's our job to help retailers grow the category and entice younger, more health-conscious audiences – a group which typically under-indexes on berry consumption – into berries."
Harrison pointed to the supplier's work on targeting younger consumers with its blackberries in 2020 with "clear, positive, dynamic health messaging" – a strategy that "began to grow the category" during its run, he claimed.
'More Than Taste' comes after Berry Gardens revamped its own-label packaging to include 80% recycled content and a minimum of 30% Prevented Ocean Plastic – material that has been collected from beaches and coastlines.
It has also reformatted the film lids of its packs so they contain 30% post-consumer recyclate – material made from recycled packaging – and would be sealed to the tray to offer full recyclability.