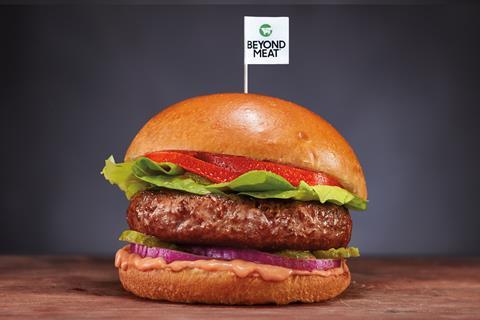 Beyond Meat will appear in an additional 450 supermarkets this spring following the announcement of new listings with Waitrose and the expansion of its existing deal with Sainsbury's.
The meat-free company's pea protein-based products Beyond Burger and Beyond Sausage rolled into close to 200 of Waitrose's stores at the beginning of April. Meanwhile, its burger is set to become available nationwide across Sainsbury's stores later this month, having first appeared in a limited run in the supermarket last October.
Beyond Meat said it had also greatly increased its availability in supermarkets on the Continent, with listings in more than 1,000 German stores and over 1,100 Austrian ones. Its products became available in the Netherlands and Switzerland for the first time in the first quarter of 2021.
"These new and expanded retail partnerships in the UK serve as strong proof points that Europe's appetite for plant-based meat and Beyond Meat products in particular is on the rise," said Chuck Muth, chief growth officer at Beyond Meat.
"We know our customers are looking for alternative protein options that taste great, and due to consumer demand we've been able to grow rapidly to make plant-based meat options that are better for the planet and more accessible to all."
The expansion comes after Beyond began production in Europe for the first time last summer – a move that has allowed it to expand its presence in both the UK and Continental markets.
Beyond has also floated the possibility of multiple new products appearing on UK retailer shelves in the near future, having taken out four trademarks with the Intellectual Property Office earlier this year.
A Beyond Mince product, which The Grocer first revealed in 2019, has also moved closer to appearing more widely in the UK following its recent launch in Belgian, French, Spanish and Italian retailers. It is currently only available in Whole Foods Market stores.