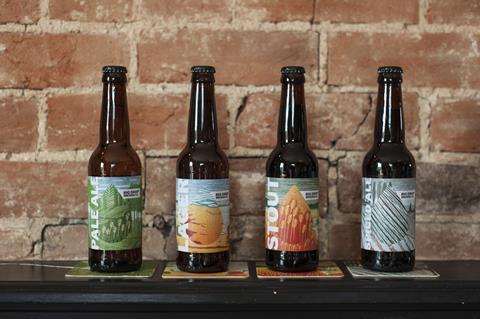 Alcohol-free beer producer Big Drop Brewing has raised a further £3.5m to fund surging growth as its sales head towards £5m.
The brewer has received £3.5m more of Series A funding, led by Panoramic Growth Equity, with further funds coming from Rubix Ventures – an investment firm back by athletes and entrepreneurs, including Irish cyclist Dan Martin and Zwift founder Eric Min.
The round also includes BluepointVC, a venture company led by Stefan Orlowski, an ex-senior executive at Heineken, who joins Mark Hunter, former CEO of Molson Coors, in supporting Big Drop on its advisory board.
The latest investment takes the total sum the brewer has raised to £6.5m since its 2016 launch by Rob Fink and James Kindred.
The new funds will be used to accelerate the brewer's growth plans, including launching a central London venue.
Big Drop is on target to hit annual sales of £5m by the end of 2021, with sales growth of around 150%. That equates to around 4.5m pints sold annually, up from just 1,500 in its first year.
Sales are forecast to rise to £20m by 2023.
Big Drop said its outsourced brewing model has enabled it to quickly scaled-up in new markets as it currently brews locally in Australia, Canada, USA and the UK, and is available in more than 20 countries.
CEO Rob Fink said: "Big Drop has seen fantastic growth over the last few years, due in no small part to the hard work, commitment and belief of our brilliant team. This investment will give us the turbo-charge needed to build on our mission to brew great tasting beer that just so happens to be alcohol-free and to pursue our vision of being the world's best-loved alcohol-free beer."
David Atkinson, senior investment manager at panoramic growth equity, added: "Rob, James and the team at Big Drop have created exceptional alcohol-free beers, a premium brand and a name with universal appeal. As consumer tastes develop, the alcohol-free drinks market is experiencing high growth and Big Drop is at its forefront. We share the team's vision to grow the brand in the UK and overseas and are pleased to provide investment to support this goal."
Big Drop also announced that Nicole Goodwin, formerly Marketing Director at Jaegermeister, is joining as marketing director, and Darren West has joined from Brown-Forman Australia to mange its Australian business.