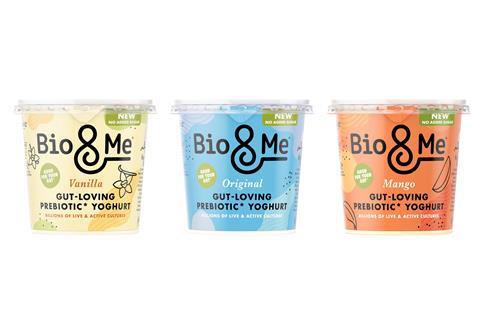 Gut health startup Bio & Me is moving into chillers with a range of prebiotic yoghurts.
The brand, which was founded by gut health expert Megan Rossi in 2019 and counts former Vita Coco CEO Giles Brook among its investors, will launch three flavours of yoghurt – Original, Vanilla and Mango – over the coming weeks.
They are billed as containing 700 billion live and active cultures, including two of the world's most studied, LGG and BB12. They also contain no added sugar or sweeteners, no emulsifiers or thickeners and are said to be high in protein and a source of vitamins and calcium (rsp: £1.80/350g).
"If you look at all the yoghurts on the market, there wasn't one that I as the gut health doctor was really impressed by – there's clearly a gap in the market", said Rossi.
The brand debuted with a range of granolas in 2019 and expanded into porridge and muesli soon after.
Its CEO Jon Walsh said it had been "less risky to start with ambient products as they have a longer shelf life and got a strong response from consumers" but that the plan had always been to expand into yoghurts.
It worked with a "leading dairy" which was "very admired for their work on these kinds of products" to create the range, he added.
"These are quite diffiult technically to make," said Rossi. "A lot of other companies don't have the right technique so they have to add starch to get the mouthfeel right. It's been quite a long work in progress. But if it's not truly good for the gut and delicious then I don't want my name against it."
They will hit Sainsbury's from 19 May, with further retailers to follow.
The range would be marketed primarily with social media and in-store trials, said Walsh.