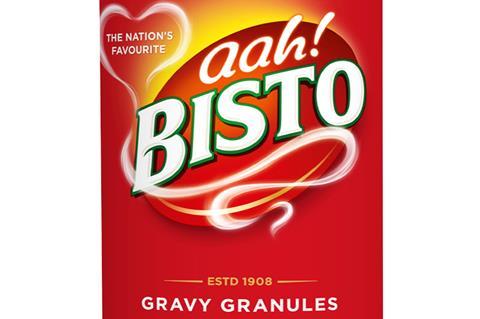 Premier has slashed Bisto's packaging in a bid to boost the brand's sustainability credentials.
The supplier has cut down the size of its Bisto drums by 8mm, which it claims will remove 40 tonnes of paper from the supply chain every year.
The switch was the product of two years of work and required "significant changes" to its manufacturing line in Worksop, Nottinghamshire, said the brand, including replacing the sensors on the line so shorter drums could be detected, and making alterations to the drum's sealing and capping machines.
Meanwhile, Bisto has added 20g of granules to the packs, which it said was the equivalent of six more portions per tub. This brings the weight of the SKU up from 170g to 190g. The price has gone up from £1.65 to £1.85 per drum, but Bisto stressed the price per portion remained the same.
The switch "was complex as we need to allow headspace in our tubs for the gravy granules to settle in transit", said Bisto marketing controller Savan Sabharwal.
"Typically, a reduction in pack size means less product, but we know that when it comes to gravy, more is more, and that just wouldn't do."