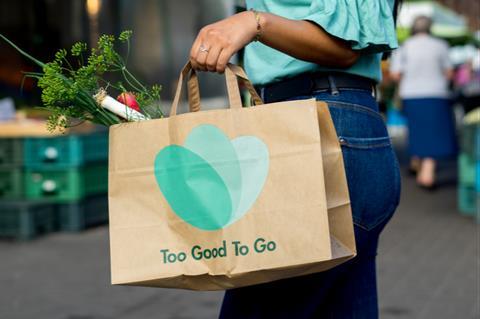 Blakemore Retail has rolled out its partnership with anti-waste app Too Good To Go across its entire 275-store estate.
The convenience retailer has so far saved 17,400 bags of surplus stock from going to waste since it kicked off a trial with 15 stores in January last year.
In June 2020, the business registered a further 43 stores on the platform but completed the rollout this week.
Each 'magic bag' contains food worth a minimum of £10, but is sold to customers for £3.09.
They can include groceries, fruit, vegetables, baked goods, sandwiches, cakes, meats, pizzas, ready meals and sweet treats.
After placing an order and paying for it on the app, customers collect their bags at the allocated time from their chosen Spar store.
"We're delighted to be expanding our partnership with Too Good To Go," said Blakemore Retail MD Matt Teague.
"At Blakemore Retail we're dedicated to reducing our food waste, and this app is a great way to help us on our mission to achieve this.
"The app enables customers to get some fantastic deals at the same time as encouraging them to try new products that they might not usually buy as part of their regular shop.
"This practice of reducing food waste has now become the normal way of working across our retail estate, and we're also seeing retailers from AF Blakemore's independent Spar estate increasingly eager to sign up to the app too."
Too Good To Go MD UK Paschalis Loucaides said: "We're thrilled to be rolling out our partnership with AF Blakemore and its owned Spar stores.
"If we're going to make a dent in the vast quantities of food wasted every day we need to work with partners who are as dedicated to the cause as we are.
"Now, consumers can help rescue food from their local AF Blakemore Spar, bringing communities and businesses together in the fight against food waste. I'm excited to see what we can achieve together."