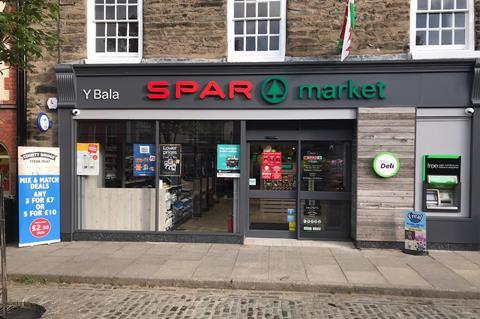 Blakemore Retail has opened its first store under the Spar Market fascia.
It follows a refurbishment at the company-owned store in Bala, Wales.
The Spar Market format is designed for larger convenience stores with a focus on fresh foods. It first launched in 2017, and caters for customers cooking at home, or those who are on the go.
At the new store, shoppers looking for meal solutions can choose from AF Blakemore's County Bridge fresh meat range and an improved selection of products across fresh, frozen and grocery.
The store also features an extensive variety of fresh produce from local suppliers, including Ellis eggs, Edwards of Conwy, Blas y Fwyd, Village bakery and Henllan Bakery.
For those on the go, a new Daily Deli hot service counter offers ready-to-eat food from breakfast through to the evening. There is also a self-serve Philpotts coffee machine, Tango Ice Blast, F'real shakes machine and a smoothies bar.
A Spar refill station for dried goods is also available.
"Spar Market is an exciting new format for Blakemore Retail that will help differentiate our Bala store for the location and market," said Blakemore Retail MD Matt Teague.
"New store formats and our store cluster strategy mean we are better able to design stores to reflect the core shopping missions of our customers than ever before.
"All of the new features have been designed with the customer in mind and offer something for everyone."
Self-scan checkouts have been introduced to the shop for the first time. Colleague headsets are also helping to drive efficient operations by improving communication among staff members, the retailer said.
Over the last 18 months, the store has supported many charities and organisations with monetary and goods donations, including Meithrinfa Akroyds Creche, Awel y Coleg and Snowdon Food Bank.
Since opening, it has raised more than £7,000 for local communities.