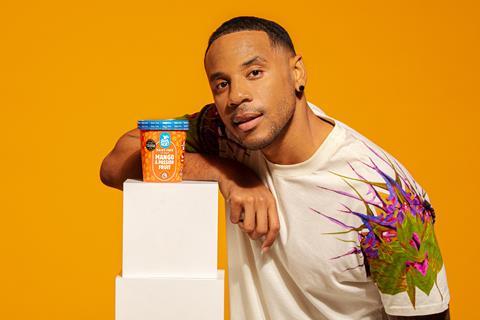 Blue Skies has appointed broadcaster and documentary maker Reggie Yates as its business partner and creative director.
The exotic fruit supplier, which most recently ventured into dairy-free ice cream, has partnered with Yates based on "their shared purpose to put people first", it said.
Yates, who was born in London to Ghanaian parents, was "inspired" to join a brand that shared his Ghanaian roots, said Blue Skies.
Its 'Above and Beyond' campaign, launching this summer, will support Yates' 'Pass the Mic' initiative, which "encourages, empowers and elevates voices from diverse backgrounds".
The campaign competition will ask entrants to share an "above and beyond story", about how they, or someone they know, has inspired others for the chance to win a £1,000 prize, it said.
Yates and Blue Skies have also shot two films, which will debut with the campaign.
The films, shot in Ghana and produced by Yates' company FIVE7, will show how Blue Skies uses fresh coconut to make its dairy-free ice cream.
They would "explore the people behind the pots and how the company invests in growers and communities", said Blue Skies.
On the partnership, Yates said: "Blue Skies is a company that is enabling communities to take control of their future, while creating an amazing product.
"Being a part of it means I'm not just telling the story but helping create and shape it," he added.
Blue Skies CEO Hugh Pile said he wanted to create a campaign which would educate consumers about the brand and "inspire" them to try its products.
"Reggie embodies our values of passion, integrity and boldness to capture the individual personalities of the people who feature in his documentaries," he added.