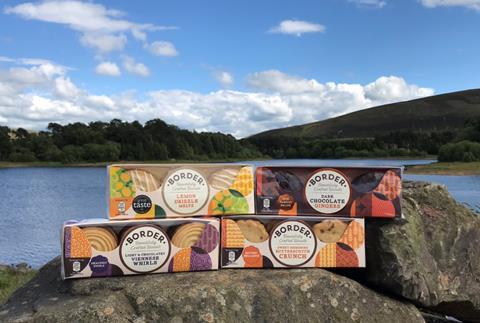 Premium snacks supplier Border Biscuits saw a double-digit drop in sales last year as the coronavirus pandemic hit out-of-home sales, but expects to return to growth this year as the out-of-home market reopens.
Total turnover at the Lanarkshire-based biscuit brand fell 10.5% to £14.8m in the 2020 calendar year, down from £16.5m in the previous period. The company pointed to the sharp drop in out-of-home consumption as the primary driver of the sales drop.
MD Paul Parkins said its market leading position in the out of home premium biscuit market, with over 40% of its sales coming via out-of-home channels, exposed it to Covid as demand for individually wrapped mini pack products significantly reduced.
Increased cost of sales also resulted in a decline in profitability, with operating profits dropping 63% to £161k, down from £446k in the previous pre-pandemic year.
Parkins said the firm had "invested heavily" in health and safety protocols, which impacted year-on-year operating profits.
However, he said its retail business had continued to grow ahead of the market and it had scaled up production to meet increased retail demand.
The brand has had an "encouraging" start to 2021 with a "swift" recovery in out of home as Covid restrictions ease.
Retail sales are up 12.5% year-to-date in a market declining 3% [Nielsen], with sales set to be further boosted by recent distribution wins in Sainsbury's and Waitrose.
The company has also launched new products to add growth to the category, including our new Luxury Chocolate Sharing, as well as two new chocolate biscuit bar varieties – Milk Chocolate Ginger and Dark Chocolate Ginger & Orange.
Parkins commented: "Since joining the business twelve months ago, I'm really proud of how the whole team at Border have responded, not only to the new set of realities thrust upon them by Covid but also how they have embraced this uncertainty and built robust plans that will only accelerate growth in the years to come."
The accounts state that overall performance had been "satisfactory" in light of the impact of the pandemic and the company is "developing strategies to strengthen short, medium and long term performance and growth".
"The directors believe the business is well placed to benefit from an expected recovery in the out of home market once Coronavirus restrictions are lifted," the accounts state.
This recovery and anticipated growth in the grocery market, along with investment in marketing, is expected to result in improved performance in 2021.
Early this year the business boosted its senior team with five new hires to underpin growth.