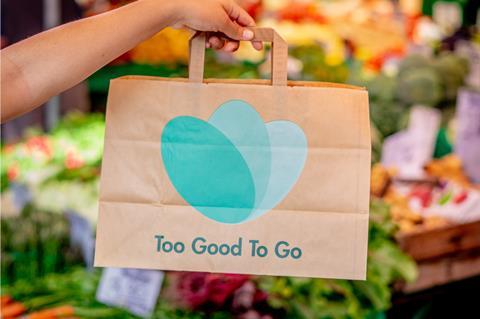 BP has rolled out its partnership with anti-food waste app Too Good To Go across its entire 292-store estate.
The move includes all company-owned sites and BP operated M&S Food stores in the UK.
It follows a trial that kicked off in Scotland and Essex last August. The forecourt operator has so far saved 138,000 bags of surplus stock from going to waste in the trial.
The Too Good To Go app lets users search for stores taking part in the scheme that have unsold produce. They then purchase a 'magic bag' of food at risk of going to waste and collect it at an allotted time.
The bags from BP contain a mix of short-dated fresh groceries, food-to-go products, deli items and ambient produce from M&S Food, Wild Bean Cafe and other in-store ranges.
The partnership has also offered a series of seasonal magic bags, aimed at ensuring Halloween, Christmas, Valentine's and Easter themed products do not get thrown away, the anti-waste app said.
"I'm thrilled to announce the nationwide rollout of our partnership with BP," said Too Good To Go UK MD Paschalis Loucaides.
"So far we've seen incredible appetite from our users for our magic bags, with the seasonal themed magic bags in particular being very popular.
"Food waste is a huge global problem so it is great to see brands like BP stepping up to join us in ensuring perfectly good food is eaten and enjoyed instead of wasted."
Too Good To Go now partners with nine forecourt operators, including EG Group, which teamed up with the anti-waste app in October last year.