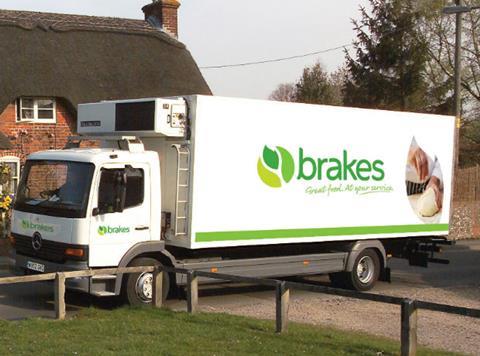 Wholesaler Brakes fell to a £234m loss last year as the coronavirus pandemic wiped out its hospitality sales at the end of its financial year.
Newly filed accounts for Brake Bros Ltd, which includes its UK operations as well as trading arms in Sweden and France, showed revenues for the year to 28 June 2020 down 18.2% to £3.5bn from £4.3bn in the previous 12 months.
The group lost £430m of sales in the UK, including Ireland, as widespread foodservice and restaurant closures cut domestic sales to £2bn.
Brakes said it took steps to reduce outgoings, deferred capital spend projects, utilised the government furlough scheme and increased its retail customer base, it said.
It also supplied distribution services to government agencies.
Despite these mitigations, Brakes posted a statutory loss of £231.m in the period, compared with a £29.1m loss the previous year. A pre-exceptional operating profit of £72.7m in 2019 turned into an operating loss of £64.3m before exceptional items.
Brakes UK CEO Hugo Mahoney said the group "performed well" despite the "challenging" conditions.
He highlighted the signing of a long-term agreement with Aramark as well as contract extensions with key customers and "specific investments in our service provision particularly focusing on operational efficiency, e-commerce, sales and service support and upgrades to our vehicle fleet", as grounds for optimism.
During the period the company raised £600m through the Bank of England Covid Corporate Financing Facility to support it through the pandemic, due to be paid back this year.
Exceptional items incurred during the year totalled £160.5m, including a £42.5m cost attributable to Covid, primarily costs related to redundancy and site closures, and almost £120m of restructuring costs related to its UK distribution network and its European division.
Despite its use of the furlough scheme, the average number of people employed by the group fell almost 10% from 14,695 to 13,293, while total wages fell 12.9% to £504m.
In October Brakes admitted that it had made more than 500 employees redundant and permanently shut four sites.