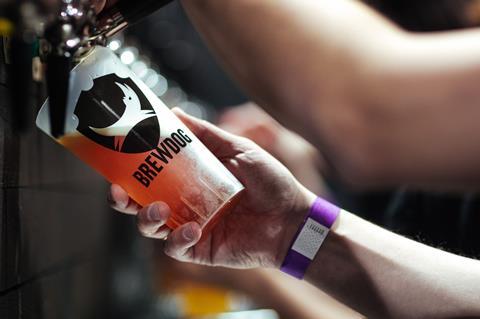 BrewDog has teased a coming collaboration with chocolatier Tony's Chocolonely.
The Scottish brewer's CEO and co-founder James Watt tweeted Tony's was "one of our favourite companies and we love their mission to make chocolate 100% slave free".
He did not reveal specifics, but said the two were "working on a collaboration brew" and asked his followers for input.
BrewDog has stepped up its environmental and political activities recently: in February, for instance, it was certified as a B-Corp after a year of "rigorous" testing across its global operations.
Its launches have reflected this drive. Take MMXXX, a beer it launched in January, which was designed to be aged for a decade and would "either celebrate humanity coming together and getting our planet back on the right track" or "toast the impending apocalypse" by the time it was ready, BrewDog said.
Tony's Chocolonely recently became the subject of controversy after it was dropped from a list of ethical chocolate companies for using beans in its bars that were processed by Swiss chocolatier Barry Callebaut, which was named as a defendant in a US court case brought against the cocoa industry by International Rights Advocates on behalf of eight former child workers on plantations in Ivory Coast.
However, it vehemently defended its practices and stressed it contracts out a separate arm of Barry Callebaut's factory specifically set up to accommodate full supply chain traceability since 2015.
Its head of impact Paul Schoenmakers said by working with Barry Callebaut it was "triggering them to change".
Read more: a rush to 'cancel' Tony's Chocolonely would be a mistake