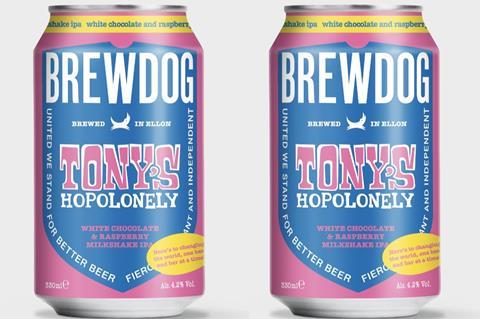 BrewDog has revealed the details of a collaborative beer it is creating with ethical chocolatier Tony's Chocolonely.
The brewer's CEO James Watt, who teased the collaboration on Twitter in March, revealed this week the two suppliers will join up for a white chocolate & raspberry milkshake IPA.
Watt tweeted a picture of a trio of cans featuring the Tony's Chocolonely logo, with the drink itself coming in at 4.2% abv.
He called the chocolatier "one of our all-time favourite companies".
"Their chocolate is incredible and we love their mission to make chocolate 100% slave-free", he wrote.
It comes after Tony's recently became embroiled in controversy after it was dropped from a list of ethical chocolatiers, because it uses beans in its recipes processed by Swiss chocolate giant Barry Callebaut.
Callebaut was named as a defendant in a US court case brought against the cocoa industry by International Rights Advocates on behalf of eight former child workers on Ivory Coast plantations.
The business vehemently defended itself, on the basis it contracts out a separate arm of Barry Callebaut's factory specifically set up to ensure supply chain traceability. By working with Barry Callebaut it was "triggering them to change", it said.