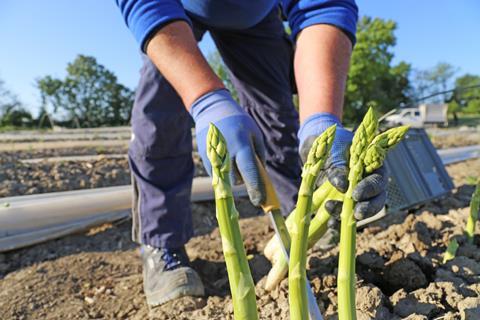 Supplies of British asparagus are "desperately low" this year as yields have been devastated by a prolonged period of cold weather this spring, growers have warned.
During the past three months, many areas of the UK have been exposed to the frostiest April on record, below-average temperatures and two months of drought. These conditions slowed the growth of asparagus plants, which are typically grown in open fields under polythene sheeting.
It has meant retailers and wholesalers were in the "extraordinary" position of having to rely on imports during May for the first time since 2013, according to British Asparagus Association chairman Chris Chinn. Many are understood to have come from Peru.
"We have been desperately short," said Chinn, who also farms the crop in Worcestershire. "Yields are well under half so far compared to an average year.
"I hope yields are up to 60%-70% by the time we get to the end of June. It's been an absolutely shocking spring season for all crops, but we're supposed to be harvesting asparagus and there's no opportunity to catch up."
The asparagus season typically begins in the second half of April but can run no later than the end of June as growers must allow the following season's crop to develop.
Morrisons said it had experienced some delays in its British asparagus supply but now had full availability. Sainsbury's, Asda and Waitrose all said they had no current availability issues.
While data from Assosia showed prices for British asparagus this week remained relatively flat year on year, wholesale prices have been pushed up, according to Andy Allen, owner of Norfolk-based Portwood Asparagus.
"Prices have been higher, certainly in the early part of the season. They've settled a bit now. But because growers aren't going to get the tonnages, the prices are likely to go up again fairly soon," Allen said.
He added that grower costs had also been pushed up due to Covid-19 safety measures. For example, social distancing in packhouses had made operations "inefficient", he said.
However, both Chinn and Allen added that the lower yields had prevented any labour shortages this year.
It comes amid growing concern from the wider fruit and veg industry that there will not be enough seasonal workers to pick and pack fresh produce this summer.
Last week, The Grocer revealed a range of issues including, short opening hours at UK visa offices and the late appointment of additional SAWs operators, had left growers expecting to be short of labour for the beginning of the season.
The Grocer has been told grower and farming bodies are now in the process of collecting data on seasonal staff numbers to present to the government later this month as evidence of the anticipated shortages.
However, on a positive note for the industry, it is understood the Department for Work and Pensions has stepped up its efforts to get more UK-based workers into farm roles.
A senior industry source told The Grocer the department has employed a team to brief Jobcentres on the requirements of fresh produce roles – a move the source described as a "huge step forward".
It follows the scrapping of the Pick for Britain recruitment campaign which encouraged British workers to take up farm roles when Covid-related staff shortages hit the industry last year.