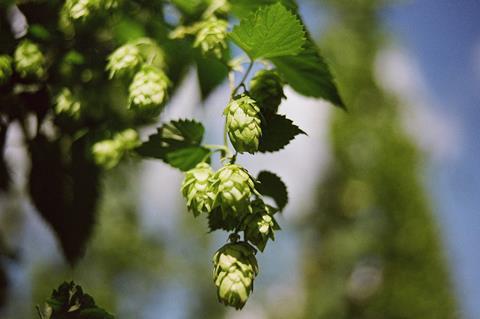 British hop growers are buckling under the pressure after a year of pub closures and cancelled music festivals, the director of the British Hop Association has warned.
Ali Capper – who is also chairman of the NFU National Horticulture & Potatoes board and partner at Stocks Farm – told The Grocer sales were "significantly down" and growers were being left with an "oversupply situation".
"Internationally beer sales are down because there have been no music or beer festivals and there have been a lot of hospitality restrictions across the world.
"And a large proportion – lets say 70% – of British hops head directly to British cask ale and you only really drink cask ale in a pub – even now pubs are open there are still restrictions, all those sales from people stood at the bar having a drink are not there."
Compounding the issue, some brewers and merchants had approached the industry early in 2021 "and said they wanted half the crop because there was already such an oversupply situation that had been created last year", she added.
"That was a hard one because we all have contracts that are legally enforceable." But, she said: "If you try and enforce a contract on a market that doesn't want it, you might get your money this year but you might not get another contract in future."
Growers were being forced to idle increasing amounts of their crops – where the plant is not allowed to grow up the string and is chemically knocked back, she said.
"We farm 100 acres and across the two years we'll have lost a year's worth of turnover," she added.
"British hop growers need drinkers to choose British hopped beers, British beer drinkers to choose brewers who're supporting the British industry, and they need to remember that beers made with imported hops aren't being very kind to the environment."