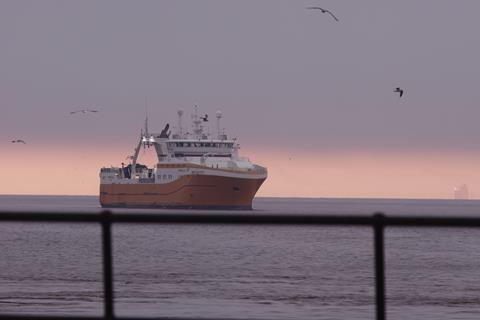 The UK government's failure to secure a fishing deal with Norway for 2021 could place the English long-distance fishing fleet under threat, fishing company UK Fisheries has said.
The lack of a deal with the Scandinavian state for 2021, as well as similar deals with Greenland, Iceland and the Faroe Islands, meant UK vessels would be unable to access their waters, which are home to key whitefish species, such as cod and haddock.
UK Fisheries, which supplies these species to the UK's fish & chip shops, suggested around 100 trawlermen it employed and hundreds of people downstream in the supply chain could lose their jobs due to the lack of an agreement.
It said its board would now convene to decide whether it could continue to have a presence in Hull, casting doubt on its planned investment of around £100m. UK Fisheries CEO Jane Sandell described it as "a very black day for Britain".
"George Eustice owes our crews and the Humberside region an explanation as to why Defra was unable even to maintain the rights we have had to fish in Norwegian waters for decades, never mind land the boasts of a 'Brexit bonus', which has turned to disaster," Sandell said.
"In consequence, there will be no British-caught Arctic cod sold through chippies for our national dish – it will all be imported from the Norwegians, who will continue to sell their fish products to the UK tariff-free while we are excluded from these waters. Quite simply, this is a disgrace and a national embarrassment."
Barrie Deas, CEO of the National Federation of Fishermen's Organisations, described the lack of a deal as "disappointing" and warned it could lead to "displacement" of fishing vessels as more boats competed for catches in UK waters.
Scottish fishing organisations echoed Deas' disappointment at the outcome, though the Scottish Pelagic Fishermen's Association added that an upshot of a lack of a deal was that the link between Arctic cod and Scottish fish had been broken.
"The multinational UK Fisheries – which is non-UK owned – had been seeking significant tonnage of Barents Sea cod quota. Historically that had been secured in exchange for a significant share of Scottish fishing quota," said a spokesman.
It also claimed the distant water fleet still had access to the equivalent of the "entire North Sea cod quota for the UK fleet" worth an estimated £15m, having secured some of Norway's cod quota.
It is understood there will be a call today between industry and government to explain why an agreement was not reached.
"We have always been clear that we will only strike agreements if they are balanced and in the interests of the UK fishing industry," said a Defra spokesman.
"We put forward a fair offer on access to UK waters and the exchange of fishing quotas, but we have concluded that our positions remain too far apart to reach an agreement this year. Norway is a key partner and we will continue to work with them over the course of the year."
Since Brexit, the government has signed a trilateral agreement with both the EU and Norway – a move that set catch limits for 2021 in six jointly-managed fisheries in the North Sea.
But it has failed to secure bilateral deals for this year – agreements on access to other nations' waters or quota exchanges – with Greenland, Iceland, the Faroe Islands and now Norway.
Separate negotiations with the EU on shared fish stocks in the Channel, Atlantic Ocean and the Celtic, Irish and North seas are ongoing, though both the UK government and EU Commission recently published their own provisional catch limits to avoid disrupting the industry.