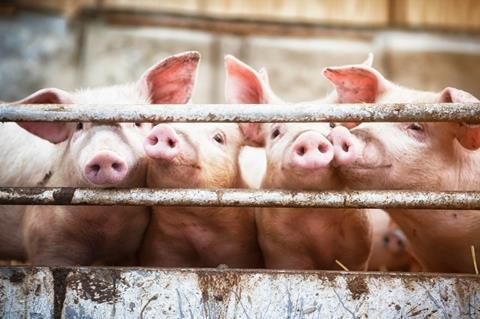 The National Pig Association has written an open letter to the major supermarkets in a bid for support to clear the backlog of pigs on farms across the UK.
With reports of as many as 100,000 pigs backed up due to labour shortages and the ongoing Chinese export ban, NPA CEO Zoe Davies said the letter – due to be sent out on Friday – would "implore supermarkets to take responsibility" by diverting resource away from European pork and back to British "to get the supply chain operating as it should".
It follows evidence some retailers are sourcing increasing volumes of foreign pork due to the ongoing disruption to the supply chain, with a chronic shortage of butchers particularly acute.
AHDB's latest pork watch survey for July (published 15 September) showed British fresh pork facings fell four percentage points to 75% year on year across the UK's 11 largest supermarkets.
Tesco's percentage fell by five points to 52%, Asda's has dropped by 13 points to 39% and Iceland's is down 12 points to 24%.
Tesco told The Grocer it was a "proud champion" of British agriculture and the biggest seller of British pigmeat, while it was working closely with its suppliers to ensure disruption was kept to "a minimum" for its shoppers. Iceland declined to comment. Asda did not respond.
Davies suggested British pork facings across the mults may have fallen even further since AHDB's last analysis as a result of the supply chain disruption.
"We know there is imported product going through the main processors, so we are asking the retailers and processors to prioritise British pork and help fix the supply chain," she said.
"It's not even a question of money any more," she added, citing examples of producers cutting carcases into six pieces – without the need for any butchery – in order to ease the backlog by selling to buyers in the Far East at below half the market rate.
Davies reiterated warnings that on-farm culling would need to start soon if the situation was not resolved, adding the industry was discussing preparations, while one NPA member had already resorted to culling piglets to make room on their farm.
A farming source added: "It's a sad situation where a British pork supplier is packing German pork in Norfolk, while there are pig farmers in the same county with a backlog of pigs they would be more than willing to sell at a very low price, who are preparing to slaughter pigs and in danger of going bust."
The NPA's warnings come as the pig sector this week reacted with fury to the government's decision not to provide temporary visas similar to the 5,500 offered for poultry workers last weekend.
The government "desperately needed a rapid rethink" to its snub, Davies said.
"It's really disappointing because we have been trying for weeks on end to try and get them to understand that this situation is about animals' lives, it's about welfare on farms," she added.
"It is a critical situation that is getting worse. The one opportunity they had to do something meaningful, they completely ignored it and rebuffed us."
The Grocer has also learned that the 20,000 foreign workers already in the UK as part of the produce sector's Seasonal Agricultural Workers Scheme will not be eligible for the poultry visa.
"This makes no sense to us at all," said Avara Foods CEO Andy Dawkins, who suggested "without doubt" the expected shortages of UK turkeys this Christmas would lead reatilers to have to import.
"What Defra is suggesting is we recruit, travel and train additional people when those already in the country might be ready and willing to work in our industry. Time is of the essence if this scheme is to make a difference to Christmas supply and the lack of flexibility makes it less valuable and less likely to have an impact."