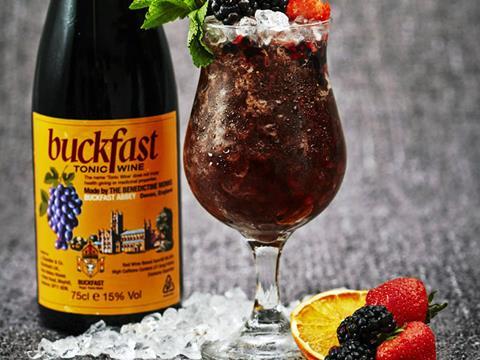 Buckfast has warned of a slowdown in growth after topping the £50m mark for the first time last year.
Newly filed accounts for Buckfast distributor J Chandler & Co said momentum had slowed in 2020/21 due to Covid and exchange rates.
In the year to 31 March 2020, sales of the tonic wine grew 4.7% to £52m, which came on top of a 10% sales jump in the previous year.
The sales uplift was accompanied by a rise in gross profit margin from 15.5% to 17.1%, taking gross profits from £7.7m to £8.9m. Pre-tax profits similarly rose 19% from £4m to £4.8m. Performance was boosted by a significant reduction in stock held, which had included stock retailed ahead of possible Brexit disruption.
However, the accounts point to a "tougher" 2020/21 financial year, with the effects of the coronavirus outbreak and Brexit-related exchange rate fluctuation with the euro expected to dampen performance.
Although Buckfast is primarily a off-trade brand, the accounts suggest negative effects from Covid have included inbound container constraints, manufacturing and bottling restrictions and fewer social occasions.
Ahead of Brexit, its sales to Europe fell markedly by 35% back down to £570k, meaning its UK sales rose to 98.6% of total turnover.
Buckfast has been a beneficiary from the Scottish government's introduction of minimum unit pricing on alcohol in 2018 as its pricing was not affected by the legislation, compared to a jump in minimum pricing for a number of rival drinks.
J Chandler & Co did not respond to a request for comment.