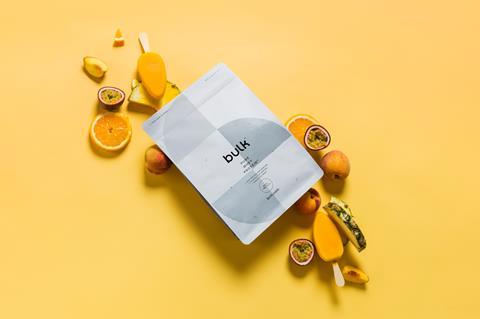 Sports nutrition brand Bulk has unveiled a whey protein powder billed as tasting "just like a Solero".
Exotic Ice Lolly has rolled out as part of a limited-edition range of summer variants.
The line-up features three more whey protein SKUs: Iced Latte, Blackcurrant Sorbet and Key Lime Pie (rsps: £12.99/500g & £23.99/1kg).
A Peach & Mango variant of its vegan protein powder will also be available as a limited release (rsps: £14.99/500g & £24.99/1kg).
Each serving of the powders provided more than 22g of protein to ensure speedy recovery following a workout, said Bulk.
The brand will support the launch with a Love Island-inspired competition, in which customers can match with the "dating personas" of the summer flavours for the chance to win prizes.
The activity would appeal to the brand's core consumers, aged 18 to 35, said Bulk co-founder & chief growth officer Elliot Dawes. "This is about bringing a little bit of fun to the brand and I think on a hot summer's day you're more likely to reach for a fruity flavoured protein shake than a chocolate protein."
In February, Bulk unveiled its first meal replacement product. Billed as a "complete food shake solution", it rolled out in Chocolate, Vanilla and Banana Caramel.