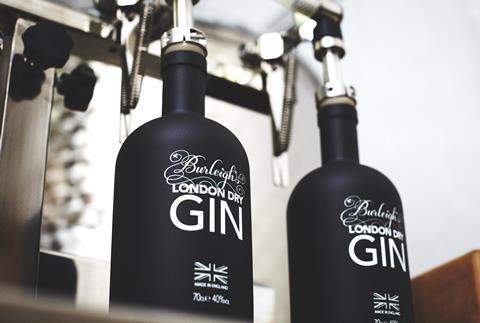 Craft distiller Burleighs Gin has raised a further £250,000 to scale its operations and grow its sales team.
The Leicestershire brand, which produces a core range of four London dry gins, as well as versions for partners Leicester City FC, Leicester Tigers RFC and the Marilyn Monroe estate, secured the investment from the Midlands Engine Investment Fund (MEIF).
Burleighs will use the funding package to recruit five full-time staff within its sales and operational teams to focus on developing its premium gin range, with a marketing campaign in the works to support the launch of two new products.
The money will also allow the company to push further overseas, expanding its presence in Europe and the Far East.
Burleighs commercial director Sam Watson said there was a clear vision for the future of the business.
"The Covid-19 pandemic has caused devasting impacts across the hospitality industry – these restaurants and bars made up a large proportion of our trade," he added.
"So, the survival of the distillery depended on its diversification. We had to pivot significantly quickly to online and direct-to-consumer sales, as well as virtual gin-tasting experiences, rather than our very popular distillery experience days and gin-making sessions. We have always supplied local grocery and independent stockists, but this was upweighted this year."
The brand, which has an established wholesale network of Matthew Clark, Enotria & Co, Carlsberg and Molson Coors, recently expanded into the grocery market with listings in Ocado, Waitrose, and the Co-op, as well as regional distribution with Morrisons in the Midlands to stock the signature London Dry Gin and the Leicester City and Leicester Tigers variants.
Watson said the brand was hoping to grow its list of grocery stockists within Leicestershire and the East Midlands this year, as well as securing further national listings.
Burleighs raised £130,000 on crowdfunding platform Seedrs in September last year to branch out into the booming 'low & no' category with a non-alcoholic variant.