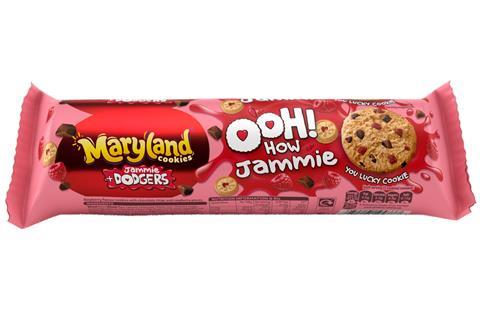 Burtons has combined its Maryland and Jammie Dodgers brands for a new range of biscuits.
Called Maryland 'Ooh How Jammie', the biscuits blend raspberry dough with Maryland chocolate chips and raspberry pieces (rsp: £85p/200g).
The NPD was "packed with the kookiness of Maryland and the cheeky mischief of Jammie Dodgers", said Burton's Biscuit Co marketing director Kate Needham.
The biscuits will roll into Asda in October for a three-month exclusive rollout, before a wider retail launch in 2022.
It's the latest in a series of outré launches from the brand – dubbed its 'Kookie Crew' range – which it has rolled out over recent months in a bid to bring "imaginative new flavours and texture combinations to the biscuit feature".
The range has so far included an orange 'Jaffanator' biscuit, a 'Mint To Be' mint flavoured biscuit and a chocolate hazelnut 'Hazelnutter' SKU.
Burton's is ploughing £750k into marketing the Kookie Crew range.