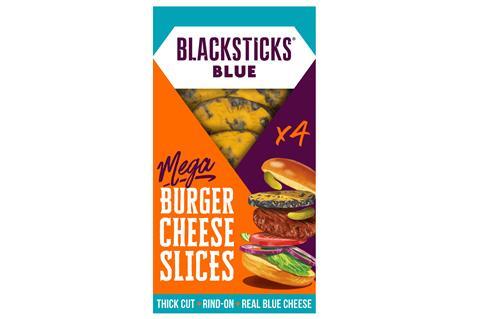 Butlers Farmhouse Cheeses has targeted what it hopes will be a boom in post-lockdown barbecues this summer with the launch of a Mega Burger Cheese Slices variant of its Blacksticks Blue cheese.
The NPD is set to come in a thick circular disc format measuring 80mm in diameter and accompanied by an edible rind, all of which will provide the "ultimate ooze factor", Butlers said. The firm added it hoped the new product would be an "antidote" to conventional "plastic" burger cheese.
It is set to hit Spar outlets from 8 April, with another listing confirmed with Waitrose from 14 April (rsp: £3/four-pack).
The Lancashire-based cheesemaker said the launch had been prompted by 2020 research from AHDB which showed there were 100 million barbecues between April and August last year. This figure was 44% higher compared to the previous year thanks to good weather conditions combining with Brits being stuck at home due to Covid-19 lockdown restrictions.
Butlers said it hoped this trend would continue, adding it believed mid-week barbecue occasions were "poised to explode" as many people were set to continue working from home.
"As we come out of lockdown and socialise with friends and family again, dining in the fresh air has a whole new level of relevance and appeal," said Butlers' owner Matthew Hall.
"There's a new wave of shoppers looking for something more than processed cheese – they want gourmet burgers that deliver those Instagram pictures while adding a quality cheese hit at home. So, for us it was simple – combine our love of handmade, farmhouse cheese with our appetite for innovation to create something special with Blacksticks Blue."
The NPD launch comes after Butlers claimed an industry first last year with the launch of a "fully recyclable British cheeseboard".
It also follows the firm's unveiling of a 'Mature Your Own' variant of its Blacksticks Blue cheese, which was targeted at Christmas.