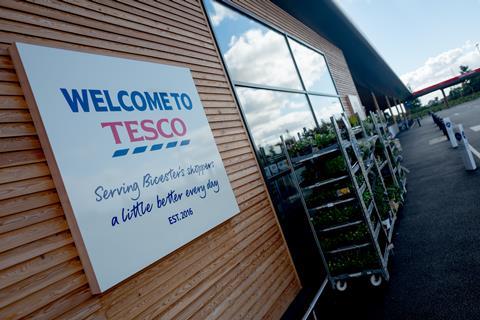 Global buyout funds are eyeing the opportunity to take more UK supermarkets back into private hands after their performance during the Covid crisis has left the major grocers undervalued.
Tesco shares fell once more following the publication of its annual results on Wednesday, dropping 2% to 227.4p and taking its share price fall since the start of the coronavirus outbreak to around 30%.
Investors focused on the mounting pandemic costs wiping out sales gains during the period, with Tesco reporting a drop in profits of almost a fifth to £825m amid Covid costs of almost £900m in the year to 27 February.
The hiring of 50,000 temporary workers, some 20,000 of which have joined permanently, and its decision to pay back £585m of business rates relief, more than wiped out the benefit of an 8.8% sales jump in the UK & Ireland to £48.8bn.
Tesco said it would recover profitability in the new financial year as Covid costs and sales volume gains ebbed away. Only around a quarter of Covid costs were persisting in the current financial year and profitability had increased in its online operations, it said.
Shore Capital analyst Clive Black suggested Tesco's "transformed business" was left looking undervalued, with stock trading at around 11% less than fair value.
"With low financing costs, lots of liquidity and capital to allocate, a sub-£18bn market capitalisation and structurally enhanced solvency ratios, it's not too big to come under the takeover spotlight," he said.
Following the Issa Brothers' and TDR Capital's acquisition of Asda, private investors are eyeing European supermarket assets because of suppressed valuations, despite the shift to at-home eating.
Couche-Tard's $20bn bid for Carrefour was rejected by the French government in January, while this week it emerged Czech billionaire Daniel Kretinsky had raised his stake in Sainsbury's from just over 3% to 9.99% through his Vesa Equity Investment group.
UBS analysts said Vesa's raised stake in Sainsbury's represented "a willing buyer who could look to raise the stake further… fitting in with their key area of interest in food retail".
On Tesco, Black suggested Tesco's commitment to return excess capital to shareholders in the form of dividends and share buybacks – something reiterated by CEO Ken Murphy this week as a "close to the top of our agenda" – would be particularly noted by leverage buyout operators.
However, Tesco's existing shareholders were left disappointed by what was seen as downbeat guidance, pointing to a recovering of operating profits only back to the same pre-Covid level as 2019/20.
"While the pandemic hasn't done the group much harm, a year of captive shoppers hasn't done it much long term good either," said Nicholas Hyett, equity analyst at Hargreaves Lansdown. "We suspect that may turn out to be an overcautious forecast, but as things stand it has clearly left the market disappointed."