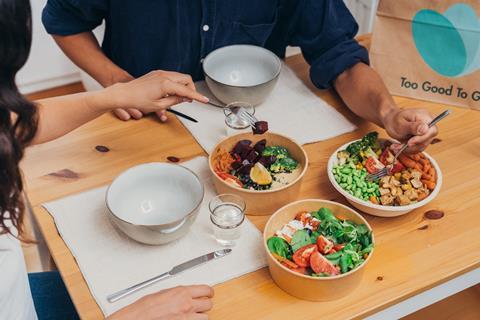 Convenience stores across the UK have almost doubled the number of meals saved through their partnerships with Too Good To Go in just two months.
The sector has now rescued 387,000 "magic bags" from going to waste, up from 200,000 in March.
The anti-waste app told The Grocer it had seen a 512% increase in the meals saved each month from last year through its convenience store partners.
It soared from 9,800 meals on average per month in 2020, to 60,000 this year.
In April 2021 alone, it stopped 85,000 bags of surplus stock from being chucked in the bin.
Too Good To Go has a target of saving over 1.5 million meals from the convenience sector by the end of the year.
"We're building partnerships across the board but the convenience sector remains one of the most impactful and important to us," said Too Good To Go UK MD Paschalis Loucaides.
"Convenience retailers need to balance supply with fluctuating and often unpredictable demand, and this can lead to excess stock at risk of going to waste.
"We're proud that we are helping convenience retailers deal with this uncertainty, providing them with a valuable safety net so that perfectly edible food does not go to waste."
So far, it has 1,863 convenience retailers on board the platform, including Nisa Pinkie Farm, Musselburgh, Scotland, which joined in January last year.
"We really liked the concept," said store manager Dan Brown. "Our business is very focused on fresh, and with that comes quite a lot of waste so we wanted to try and find a solution. Food waste costs money, it's bad for the planet – reducing it is a win-win.
"The amount of food that we've been throwing out has dramatically decreased, we've been saving a lot of money and our customers are thrilled.
"It's given us a great image within the community."
The store has currently prevented 1,429 meals from reaching landfill, saving the same volume of CO2 emissions that are emitted to charge a smartphone 632,329 times.
Premier retailer Vijay Kalikannan, owner of Meehu Stores in Hartlepool, teamed up with Too Good To Go last month.
He said: "Too Good To Go is a simple change I've made in stores that has a big impact. We're able to sell food to avoid wasting it, connect with local customers and increase our fresh offering without the worry of it not selling.
"So far, we've sold 563 bags of food that were destined for the bin and we've had over 130,000 visits to our profile on the app."
Globally, the anti-waste app has stopped 17 million meals from being thrown in the bin with its convenience store partners, equating to 324,000 on average per month in 2021.
This contributes to the 80 million meals it has saved across all sectors around the world.