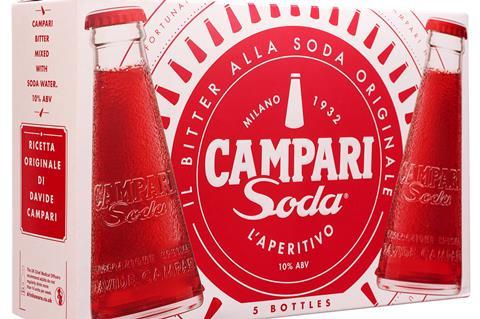 Campari has launched its first ever RTD.
The aperitif giant has unveiled Campari Soda, a 10% abv blend of its namesake bitter with soda.
The NPD would offer "the right balance of bitterness and effervescence in a glass", said the brand, and tap "the steadily increasing demand amongst consumers for premium, easy-to-drink serves to enjoy at home".
The brand is recommending the drink be served straight from the fridge into a glass filled with ice and a slice of orange, and served alongside savoury snacks.
It has rolled out into Waitrose in packs of five 9.8cl bottles (rsp: £9).
The launch makes Campari the latest booze brand to spin off outside its core category into pastures new.
Many drinks suppliers have been looking to diversify their ranges with more lucrative spirits and RTD launches, especially given the loss of the on-trade for much of the past year, as The Grocer's recent Britain's Biggest Alcohol Brands 2021 report explored.