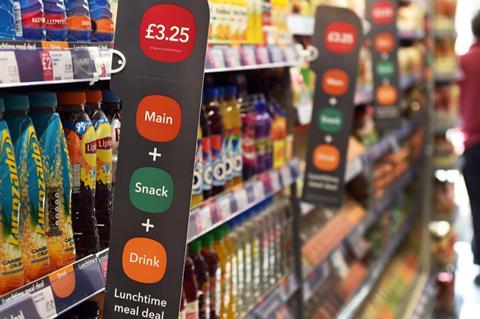 Cancer Research UK has urged the government to fully implement its planned restrictions on junk food ads and in-store promotions despite the industry backlash.
The charity has published new research claiming most young people see HFSS food as unhealthy but often didn't recall on-pack health information.
The survey of 3,400 11 to 19-year-olds found just a third remembered seeing health information on food packaging "daily or almost daily". The recall rate was lower still for advertising, with only 8% remembering seeing health information in ads daily or almost daily.
A ban on HFSS promotions is due to come into force next April, alongside restrictions on online and TV ads – but supermarket bosses have called the plans rushed and confusing.
"The government should hold firm on ensuring [HFSS] categories are within the scope of forthcoming restrictions," said a Cancer Research UK spokeswoman.
The charity is also arguing its report provides "further evidence on the need for the UK government to introduce mandatory front-of-pack labelling across all pre-packaged food" and drink.
"Now that we have left the EU, the UK is able to legislate to make front-of-pack labelling mandatory and we support this to create a level playing field," said Which? principal food researcher Shefalee Loth in the report foreword.
"Furthermore, we want to see a consistent label used across all brands and products so that it becomes more recognisable and as a result easier to use."
Cancer Research UK senior policy manager Malcolm Clark, one of the report's authors, argued there had been enough time for industry to prepare for restrictions.
"This is nothing new," he said. "The government announced in 2018 that they were going to consult on location and price promotion restrictions, so already at that stage industry should have been forewarned this was on the table."