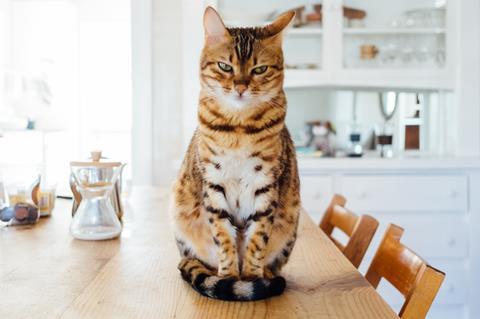 Britain's pet owners have been warned they face a national shortage of food pouches for their cats and dogs.
The mults told shoppers this week they may be unable to find pouches of their pets' regular food. Sainsbury's, for instance, sent an email to shoppers warning of a "national shortage" of dog and cat pouches, and said it expected the issue to be "ongoing throughout the year".
However, there were still "plenty of cans and trays available", it stressed.
A spokeswoman for the retailer told The Grocer it was "seeing an increased demand for petfood pouches and are working hard to maintain stock levels. We continue to offer a range of canned and dry options. We're doing what we usually do to manage supply – that's talking to suppliers."
Tesco, meanwhile, has seen its sales of petfood rise significantly over the past year, with branded catfood pouches experiencing particularly strong demand.
A Morrisons spokeswoman said there had been "an unprecedented rise in pet ownership across the UK and we are feeling the impact of that increase in demand. We're working closely with our suppliers who are investing in increasing their capacity and we may not have full availability for several months.
"That being said, we do have enough stock to support all our customers and their new pets and so there is no need for people to buy more than they need."
Many shoppers had bought pets to help cope with the coronavirus pandemic, said Mars Petcare UK GM Helen Warren-Piper. The shortage being seen was "not specifically due to supply problems or difficulties in sourcing ingredients or packaging" but "due to an increase in demand for petfood, as the UK's pet population increases and feeding habits change".
"For example, with more pet owners working from home, more people are 'treating' their pets to build a stronger bond."
Mars had made "a significant investment into our manufacturing network, including our UK Melton Mowbray petfood plant" to meet the surging demand, and was "advising pet owners across the country to stick to their pet's current product where possible and to not purchase above their pet's needs".
A Nestlé spokeswoman said Nestlé was "experiencing unprecedented demand for our products, including catfood pouches, where we have seen sales growth for our Felix and Gourmet brands at almost three times that of the market."
"We have been working hard to meet this additional demand and are producing more petfood – including pouches – than ever before. However, other manufacturers may have constraints when it comes to increasing or even maintaining production.
"As a result, owners regularly feeding Purina petfoods may find that some of our products are not consistently available in their normal place of purchase as new consumers switch to our brands."