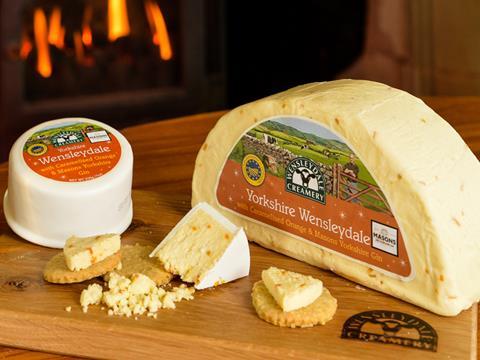 Cathedral City owner Saputo has continued its recent acquisition drive by snapping up Wensleydale dairy Products in a £23m deal.
Saputo said its purchase of the North Yorkshire-based supplier, which sells a variety of specialty and regional cheese under its Wensleydale Creamery and The Yorkshire Creamery brands, would "complement and broaden the company's existing range of British cheeses, including Cathedral City and Davidstow cheddars".
The deal follows Saputo's acquisition of vegan cheese brand Sheese and its owner Bute Island Foods in May.
The business will join the Canadian dairy giant's UK dairy division, with the transaction paid in cash once relevant regulatory hurdles are cleared later this month.
Wensleydale operates two production facilities at its headquarters near the Yorkshire Dales town of Hawes. It employs about 210 staff and sources its milk from 40 local farms using its own unique cheesemaking starter cultures.
The business was previously owned by Saputo Dairy UK's predecessor Dairy Crest when it was a subsidiary of the Milk marketing Board.
Dairy Crest closed the Hawes creamery in May 1992, transferring production of Wensleydale cheese to a site in Lancashire. However, a management buyout in November 1992 led to the reopening of the business in private hands.
Yorkshire Wensleydale cheese was granted PGI status in 2013, while the Wensleydale business now exports its range of cheeses around the world.
"Wensleydale Dairy Products is home to an immense amount of passion, care and tradition," said Lino Saputo, chair and CEO of Saputo.
"Not only is it a well-established British business with high-quality products and award-winning cheeses, but our corporate cultures are well-aligned, and I'm delighted to welcome the entire team into the Saputo family."
Wensleydale Dairy Products posted a "disappointing" EBITDA of £163k and a £1.5m pre-tax loss for the year to 31 March 2020, according to its latest results lodged with Companies House.
It took a £1.17m hit on exceptional costs, despite revenues increasing to £34.8m from £31.9m, with the pandemic forcing it to temporarily close its lucrative visitor centre business.