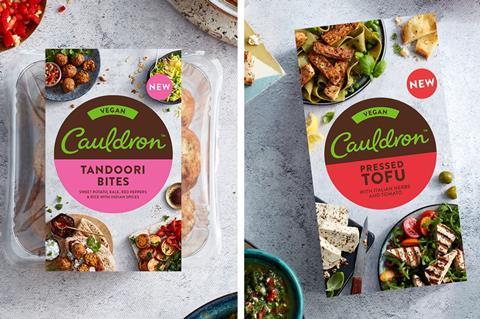 Plant-based brand Cauldron has further expanded its range with new tofu and vegan snacking lines.
The brand – the UK's largest in chilled meat-free – launched a new tofu with Italian herbs & tomato line and a veg-based tandoor bites line into Waitrose last week.
The tofu SKU (rsp: £2/250g) took the product beyond the usual recipes such as stir fry or curry and into pastas and salads, Cauldron said. The NPD was easy to use, with no need to press, and high in protein, low in saturated fat, a good source of calcium and made from sustainably sourced organic soya beans, it added.
Made from sweet potato, kale, red pepper, carrot and coconut, Cauldron's tandoori bites (rsp: £2.25/200g) could be used as an ingredient in Indian style wraps or salads, the brand said, and would "bring exciting flavour innovation to the snacking category".
The pair of new products follow a first move by Cauldron into the dairy-free cheese alternative category in March, with the launch of its Greek-style cubes – which are designed to offer shoppers a vegan alternative to products such as feta.
"Cauldron's partnership with Veganuary 2021 gave us an even bigger platform to show people just how amazing plant-based dishes can be with Cauldron and we are seeing an unmistakable move towards more sustainable eating," said head of Cauldron Tom Lindley.
"Our latest NPD is targeted at plant-based considerers, those shoppers who are looking to reduce their meat intake, whether that be for sustainability or health benefits. After the most successful Veganuary to date this year, it's important that retailers keep up the momentum by offering shoppers innovative and exciting NPD in the plant-based category."