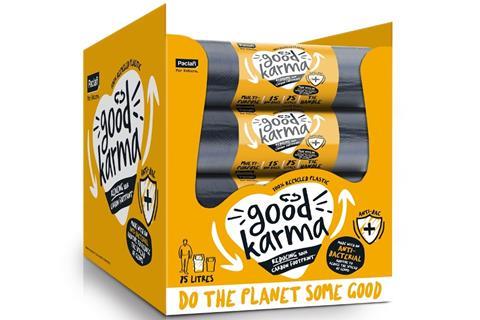 Household supplier Cedo is claiming a UK first with the launch of its Good Karma antibacterial bin bags.
The refuse sacks contain an antimicrobial additive called Bactiglas, which is blended into the plastic.
In controlled testing, Bactiglas killed more than 99% of bacteria like e.coli and s.aureus in controlled testing, according to the brand.
It is already used in medical, healthcare and white goods applications and was developed by additive masterbatch company Wells Plastics.
The bags – which are made from 100% rLDPE and are recyclable – will roll into Morrisons from 8 November, with a further retail rollout to follow over the next 12 months (rsp: £4).
Cedo UK commercial director Martin Burdekin said the NPD was a "direct response to consumers' need for increased hygiene and sanitation in the home, arising as a result of the Covid pandemic".
Cedo had "created a fully circular refuse sack that can help reduce the spread of deadly bacteria like e.coli and s.aureus", he said.
"At this time of year, as cold and flu germs are on the rise, this is the perfect way to improve the safe handling and disposal of household waste."
Wells Plastics sales and marketing director Carl Birch said: "The Bactiglas active ingredient is a compound that is natural to our environment and toxic to bacteria, whilst being safe for humans."
The protection against bacteria would last throughout the product's shelf-life, Birch added.