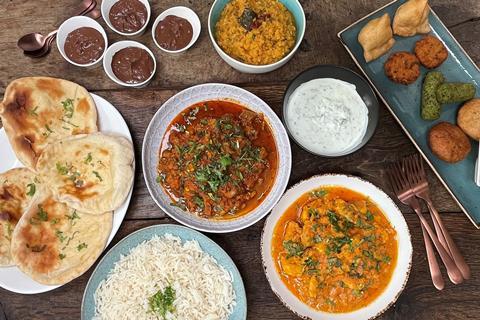 Celebrity chef Hari Ghotra is hoping to tap the home cooking boom with a duo of curry meal boxes.
The chef's new Easy Friday Curry Kit and Easy Vegan Curry Box both contain the components to make a three-course meal, intended to serve four people. They have rolled into Greatfood2u (rsp: £60).
Each box includes eight mixed appetisers with tamarind chutney, the sauces and fresh ingredients to make two mains, dough balls to make fresh naan, basmati rice, a side of dhal and four vegan chocolate pot desserts from The Coconut Collaborative.
Most of the packaging is reusable or recyclable and the packing material was made from reused denim, said Ghotra.
She added the new meal boxes would help her bring great Indian food to the masses and make it easy for people to recreate great curry at home.
"The boxes include everything you need for a fun cooking session ending up with a great meal," she said.
"They are amazing value and the dishes taste fantastic. Plus, I have done the hard bits, so they are super easy to use."
It comes after Ghotra launched a frozen curry sauce brand in November last year.
Called Hari Ghotra Easy, it comprised four sauces: Exotic Coconut, Aromatic Almond, Rustic Tomato and Creamy Cashew (rsp: £5/500g).