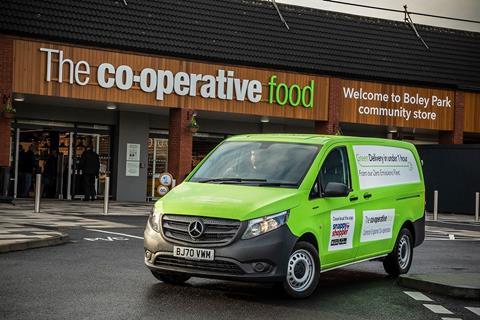 Central England Co-op is extending its free home delivery service until the end of the year.
The society said it wanted to continue supporting communities beyond the furlough scheme, and until vaccination numbers increased.
The free service was originally in place until all lockdown restrictions are lifted in the summer.
"We expect that members in our community will still feel nervous beyond June when the restrictions are expected to be lifted and as such the delivery service will continue to be a necessity," said Central England Co-op chief retail officer Paul Dennis.
"In addition, the expected wind-up of the furlough scheme in September, which will likely leave families facing financial challenges. With these factors in mind, the continuation of free delivery for members was an obvious choice.
"Never have the values of Central England Co-op been more pertinent – putting community above profits."
Shopper Cathy, 65, who started using the service in December, said: "Throughout the pandemic, I've been leaving the house as little as possible as my husband is vulnerable and shielding from the virus.
"I would go out once a week at the shop's quietest time – in the evening – gloved and masked, as protected as possible. I would hurtle back and put everything in the wash, hoping I hadn't brought anything back.
"It was a godsend when I became aware of the delivery service."
All Central England Co-op delivery drivers have been trained with 'I've got time to chat' badges, to let customers know they're there to talk to while their shopping is being delivered.
Orders are made from over 50 Central England Co-op stores via Snappy Shopper, with a choice of over 4,000 products that can be delivered within an hour of ordering.
The Central England Co-op delivery vans are electric, with a low mileage radius making them "kinder to the planet".