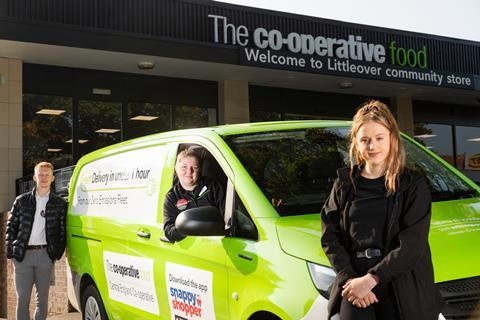 Central England Co-op has rolled out its Snappy Shopper delivery service to 100 stores.
The society first trialled the service in September in Derby and Birmingham. It also offers click & collect from an additional 32 stores, meaning just over half of its 262 food stores offer some form of online grocery service.
Its partnership with Snappy Shopper sees shopping delivered to local residents via an electronic vehicle in less than an hour.
"We are delighted to be able to help make shopping as easy and convenient as possible for customers so they can get what they want, when they want it, direct to their door or at the click of a button," said Faye Baseggio, one of the society's delivery drivers.
Customers ordering via the Snappy Shopper app have access to over 5,000 products including everyday groceries, alcohol and snacks and are able to request delivery within the hour seven days a week.
All prices will be the same as in store with a flat delivery charge of £3 on all orders. However, the society is currently offering its members free home delivery until the end of the year.