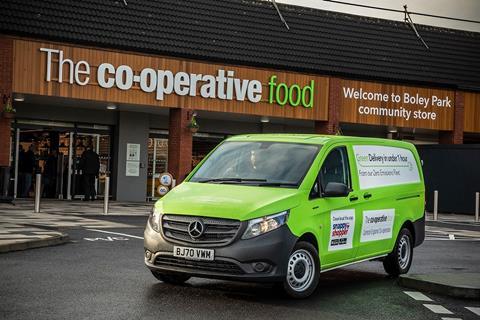 Central England Co-op has set out to achieve a 90% reduction in its carbon footprint by 2030.
The society has committed to a seven-figure investment aimed at saving 450,000 tonnes of carbon over 10 years.
Its strategy will involve a range of initiatives including the use of 100% renewable electricity, utilising new technologies such as low-carbon refrigeration and air conditioning systems, LED lighting, electric company vehicles and home working.
This will help the society hit its ambitious targets of an 80% reduction in carbon footprint by 2023, 85% by 2026 and 90% by 2030.
The figure currently stands at 76%.
"We are fully committed to play our part to address the impact of climate change and are pleased to have announced our new strategy for the society which is to achieve a 90% reduction in carbon emissions by 2030," said Central England Co-op CEO Debbie Robinson.
"The strategy will be supported by significant investment across the society in energy-efficient equipment, lighting and building design coupled with changes to operational processes.
"This ambitious goal forms part of our new society purpose – 'Creating a sustainable society for all' – and showcases how by choosing wisely and always looking for the best solution that will protect our planet, we can ensure we are environmentally sustainable."
The society has already hit some major milestones in its ongoing and long-term efforts to minimise the impact on the environment, including:
Reducing electricity usage by 51% since 2010
Reducing natural gas usage by 58% since 2010
Reducing refrigeration gas emissions by 69% since 2010
New stores use as little as 50% less electricity.
Central England Co-op energy and environment lead Luke Olly said: "Despite making considerable positive environmental impacts with our efforts in recent years, we never rest on our laurels and are continually working on new ideas and innovations to ensure we continue to make a real impact and difference when it comes to being a sustainable business.
"Our aim to reduce carbon emissions by 90% across our own operations is an industry leading commitment and is a reflection of just how seriously we take our role as an environmentally responsible business."