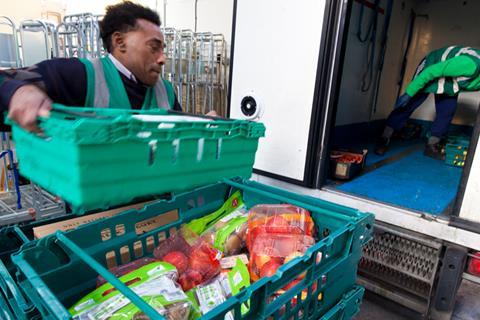 Charity bosses have slammed the government's decision to turn down funding to help support food redistribution, despite warnings the HGV driver shortage could last for another year at least.
Ministers have announced there is no funding set aside to support FareShare and other food charities, who have seen an explosion in demand from victims of food poverty since the pandemic began.
FareShare had been calling on ministers to commit to repeat the £15m of funding awarded to the sector by then Defra secretary Michael Gove in 2018, which has been used to cover additional costs of harvesting, packaging and transporting surplus food to charities.
The so called Surplus With Purpose Fund, launched by FareShare on the back of the support, has been responsible for redistributing around 20,000 tonnes of food since the start of the pandemic, more than a third of the total redistributed by the charity.
CEO Lindsay Boswell told The Grocer it had been expecting the decision but still hoped to persuade the government to carry out a u-turn.
"Extending this funding makes economic sense, it makes environmental sense and it makes social sense," he said.
"What we are proposing would cost less than 10% of the tax breaks that the French government gives to support food redistribution in its country."
The decision comes despite the ongoing driver shortages having a huge impact on food waste. The Grocer revealed last week up to a third of the food that would otherwise be sent to FareShare's warehouses was not getting through, equating to 60 tonnes a day, or 800,000 meals a week.
Last week Tesco revealed its own supply chain was wasting nearly 50 tonnes a week because of the crisis.
Another redistribution source told The Grocer the driver shortages made it even more vital for the PM to act.
"We don't think it's going to go away for a minimum of six months and more likely a year," the source added.
Meanwhile, smaller redistribution charities have told The Grocer they have been pooling their resources to make sure food supplies for the hungry get through despite the shortages.
Mark Game, CEO of The Bread and Butter Thing and a founder member of The Xcess Redistribution Network, said it was working to share vehicles with other organisations such as His Church, UK Harvest and City Harvest.