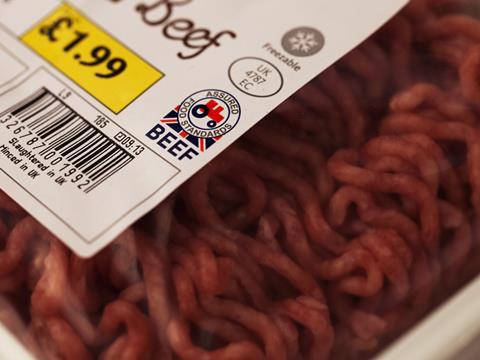 Cheap food is driving the destruction of the natural world and prices must change to reflect the 'true cost' of food production to the environment and human health, a new report has claimed.
It comes as Boris Johnson is reportedly drawing up plans for new carbon taxes that could lead to price hikes on carbon-intensive foods such as beef, lamb and cheese.
The report, by the Chatham House think tank, said food production was the main driver of biodiversity loss, with the 'cheaper food paradigm' playing a key role.
A drive for more food at lower cost had failed to account for the impacts of production on ecosystems and human health, it said. This had led to more intensive farming while encouraging food waste.
"The more prices fall, the more food we demand and the more we waste; the more food we waste, the more we demand," said the report.
The report argued the "true cost of food" must be realigned to include environmental costs and human wellbeing. It recognised this was a "contentious issue", highlighting measures such as a carbon tax were "seen by many as regressive, threatening to disproportionately harm lower-income households and the poorest communities".
It suggested, however, that the reality was more complicated as food systems that ignored environmental and human costs "merely encourage unhealthy diets lacking in nutrition while undermining the capacity … to produce sufficient and nutritious food over time. This creates a risk of increased food and nutrition insecurity in the longer term."
Tim Benton, research director at Chatham House and the report's lead author, said: "Politicians are still saying 'my job is to make food cheaper for you', no matter how toxic it is from a planetary or human health perspective.
"We must stop arguing that we have to subsidise the food system in the name of the poor and instead deal with the poor by bringing them out of poverty."
Susan Gardner, a director at Unep, the UN's environment programme, said the current food system was a "double-edged sword" aimed at producing more food, quickly and cheaply, without considering the hidden costs to biodiversity or our own health.
"Reforming the way we produce and consume food is an urgent priority. We need to change global dietary patterns, protect and set aside land for nature and farm in a more nature-friendly and biodiversity-supporting way."
It comes as Downing Street and the Treasury have reportedly asked all Whitehall departments to draw up plans for a carbon-pricing scheme that could result in price rises on carbon-intensive foods such as beef and cheese, according to a Whitehall memo seen by The Times.
The proposals are thought to be part of a carbon reduction blueprint expected to be announced in the run-up to COP26, the UN climate change conference in Glasgow in November.