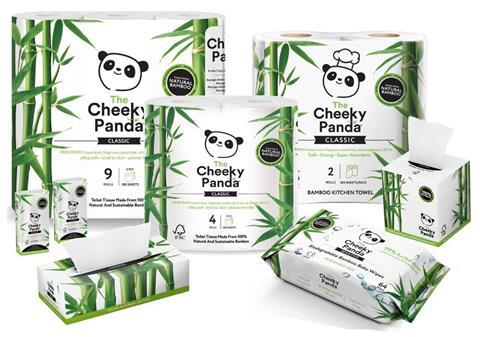 Eco toilet paper supplier The Cheeky Panda is raising £2m on Seedrs secondary market to help meet investor demand after a year of rapid growth.
Founders Chris Forbes and Julie Chen, along with early angel backers, released shares for existing and new investors to buy.
The first £1.2m of shares sold out in less than a week, with more than £1.3m raised so far.
Cheeky Panda, which makes toilet paper, kitchen roll, tissues and baby wipes from bamboo, recorded growth of 200% in 2020, with sales in excess of £5m. It is now valued at about £55m on Seedrs.
Forbes said the business had gone from strength to strength with new products and market launches across Europe, the US and China, but had still only achieved a fraction of its potential.
"With the demand of shares in B Corps and ethical high-growth businesses with ESG at its core, investor appetite in our business has never been higher," he added.
The brand has raised more than £6m over the past three years on the crowdfunding platform through three traditional equity campaigns.
The current share sale is different to a normal crowdfunding pitch as it is existing shares being sold rather than new equity.
Seedrs, which allows shares to be traded on its secondary exchange every month, said it was the first "pure" secondary share sale campaign to be listed on the crowdfunding platform.
Seedrs CEO Jeff Keliskysaid: "We aim to become the largest and most trusted marketplace for private equity investment providing alternative paths for investment to the typical VC-exit cycle.
"Our secondary market delivers liquidity to a previously highly illiquid asset class and is ideal for growth businesses, like The Cheeky Panda. Our platform makes trading for investors and founders as easy, as trusted, and eventually as fast as a public market."