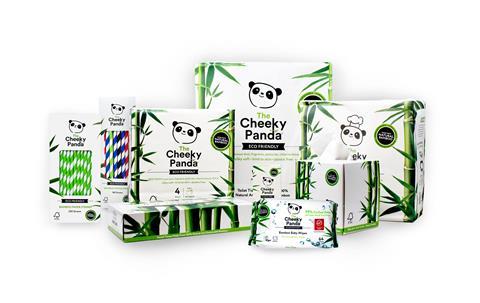 Sustainable bamboo hygiene brand The Cheeky Panda has unveiled ambitious plans to become the first crowdfunded business to launch an IPO on the London Stock Exchange.
The company, which is this week bringing a £2.5m crowdfunding campaign on the Seedrs platform to a close, said it planned to float on the London market in the next 24 months.
Founded by Chris Forbes and Julie Chen in 2016, Cheeky Panda makes toilet paper, kitchen roll, tissues and baby wipes from bamboo.
The business has grown rapidly over the past three years, with sales racing from £100k in 2017 to £5.7m last year, with a 200% jump in 2020 fuelled by increased demand for hygiene products during the pandemic.
Cheeky Panda forecast revenues would surpass £50m a year ahead of its planned listing on the London Stock Exchange.
Forbes said: "Our phenomenal growth has demonstrated the consumer appetite to make more sustainable choices in their everyday life.
"We've been blown away by the support from investors so far, and we want to give more people the opportunity to become part of our community ahead of our upcoming IPO. The world needs green companies and we will be one of the world's first green companies to come to market. We have a plan, we have a purpose, and we're inviting more people to join our mission to do good and be good."
Cheeky Panda kicked off its latest £2m fundraising effort on Seedrs back in February, with first £1.2m tranche of shares selling out in less than a week.
The campaign is different to a normal crowdfunding pitch as the business sold existing shares rather than new equity, with the money raised on Seedrs' secondary market. The secondary exchange on the platform allows shares to be traded every month.
More than 1,500 investors have bought shares in the round, raising a more than £2.5m as the campaign comes to a close this week.
It values the B-Corp certified company at almost £77m.
The latest raise comes just two years after a previous successful crowdfunding in May 2019, which saw the company smash its £750k target by 211% with a final total of £1.6m. Since April 2017, the brand has received £7m in investment from a community of 4,000 investors.
Cheeky Panda sells its products across Europe, the US, China and the Middle East at retailers including Waitrose, Boots, MonoPrix and Carrefour.