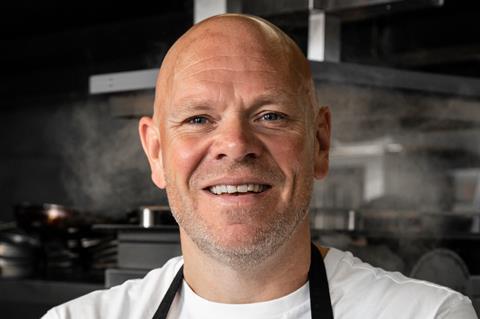 Hovis has signed up celeb chef Tom Kerridge as the face of its new TV campaign.
Premiering on 17 May on ITV, the advert will champion the brand's new posh Bakers Since 1886 range.
The ad depicts a female baker making a seeded half cob loaf, which makes its way to Kerridge's kitchen, where it is used to make a sandwich. Kerridge then takes a bite, before his wife interrupts, claiming the creation as her own.
Hovis head of marketing Nina Shanahan said Kerridge's "enthusiasm for great food" made him the "perfect choice" to star in the new advert.
Shanahan added: "Having a renowned British chef as the face of our new Bakers Since 1886 range is testament to the incredible taste and quality our customers will enjoy."
Kerridge said he was "thrilled" to be involved in the project, calling himself a "big fan" of the brand.
"I know good bread and the new range is irresistible, I'm confident the great British public will agree", Kerridge added.
The chef and Hovis brand ambassador is currently serving the Premium Burger Buns to customers at his Marlow restaurant, The Butcher's Tap & Grill, and demonstrating "mouth-watering" ways to use them on the road with The Alfresco Theatre.
He will also be launching a new podcast, sponsored by Hovis, called The Pirate Ship.
The weekly podcast will be co-hosted by presenter Chris Stark, feature celebrity guests and put food and drink "at the heart of every episode", said Hovis.
Kerridge's involvement in the Hovis ad follows the recent reveal of an A-list campaign from competitor Warburtons.
The brand featured George Clooney in its latest advert, alongside the bakery's boss Jonathan Warburton.
In the ad, Warburton turns down an incoming video call from Clooney – telling his receptionist "he can wait" – to enjoy a slice of toast, uninterrupted.