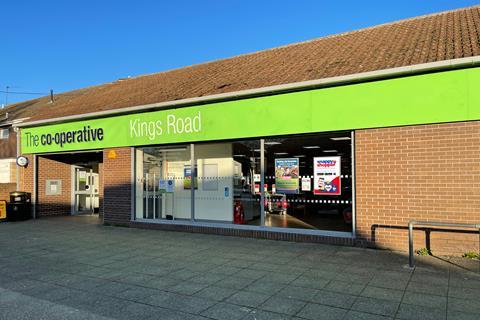 Chelmsford Star Co-op is teaming up with Snappy Shopper to offer customers based around Chelmsford city centre one-hour delivery.
The online grocery service is to be trialled at the society from 1 March for 12 weeks across six stores.
The convenience retailer hopes to expand the service into other areas of Essex "as soon as practically possible".
A range of food, drink and toiletry items will be made available through the app, including the society's lunchtime and freezer filler meal deals.
Shoppers will not be charged a delivery fee for their first orders. After that deliveries will cost £3.
Orders can be taken Monday to Friday from 8am to 8pm, and Sunday from 10am to 3pm.
"The pandemic has brought about many changes to the way we live our lives," said Chelmsford Star Co-op head of food Joe Kerr.
"Lockdown rules mean people are worried about popping to their local convenience store for a top-up shop like they used to, so are often going without key household items.
"But this has led to a wider cross-section of our community being comfortable using the internet. We hope this move will bring the 'convenience' back into convenience store shopping."
Snappy Shopper head of group development Andy Batt said: "We are thrilled to be collaborating with Chelmsford Star Co-op on their proof of concept. Our home delivery/click & collect app will provide their customers with a friendly, convenient and trusted service direct to doorsteps.
"This hub and satellite model trial with Chelmsford Star has proven to be very successful with other Co-ops. It allows the supermarket to operate the fulfilment, which enables smaller stores to offer a greater range of products to their customer base and maximise revenue potential."
Snappy Shopper works with seven regional Co-ops and is available in over 700 stores across the UK. The hub and satellite model refers to the main store that all the orders go to, and where all the picking, packing and delivering is from (the 'hub').
The satellite stores are additional stores that fall within the delivery radius. They will support with marketing, and stock if needed, but do not do any of the orders coming from the website.
The Chelmsford Star Co-op's Kings Road store will be acting as the hub in this instance.
"The experience we have gained from working in partnership with other Co-op regions has allowed us to progress the technical and marketing support swiftly," Batt added.
"Working closely with Joe Kerr and his team to exceed their on demand convenience objectives means we will drive incremental sales revenue from our thorough technical and training support process.
"Our marketing teams are collaborating closely to ensure existing members are aware of and can use the new service," he said. "We are also undertaking a hyper-local promotional strategy to attract and acquire new shoppers who will benefit from an assured same-day/next day service."