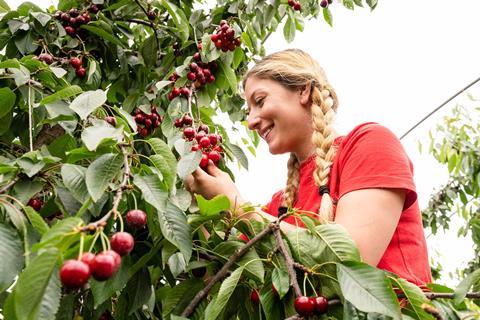 Cherry growers have forecast a strong 2021 cherry season despite recent unseasonably cold weather conditions.
Trade body Love Fresh Cherries said it anticipated the first of around 5,500 tonnes of British-grown fruit to roll into retailers from the middle of June.
While this marked an 8.3% decline on last year's 6,000-tonne harvest, the forecast tonnage would still be one of the largest crops of the past decade, weighing in above 2019's harvest of 5,228 tonnes and 2018's 3,233-tonne harvest.
Love Fresh Cherries said it expected this summer to see good availability for retailers and consumers and promised a high-quality crop of large, juicy fruit across most varieties thanks to favourable conditions during the winter months.
"Despite the unusual stormy weather and cooler spring temperatures causing a delay in earlier varieties like Merchant and Grace Star, this has had no impact on fruit quality so far," explained the trade body's spokesman, Matt Hancock.
"In fact, we're looking forward to another strong crop of big, juicy cherries, that are bursting with goodness at a time when healthy eating continues to be a high priority for us all. All indications are currently positive for another strong British cherry season."
Cherry suppliers have poured investment into orchards over the past decade, which has extended the season from three weeks to 10 weeks from June to August. Hancock told The Grocer in 2019 that he anticipated harvest volumes would soon increase to 10,000 tonnes.
The notoriously delicate fruit appears to have avoided the plight of asparagus crops, which were hit hard by this year's late frosts. The colder-than-average temperatures and dry weather seen from March to the start of May have also delayed other crops – like strawberries – and grass growth, which has hampered livestock farmers.