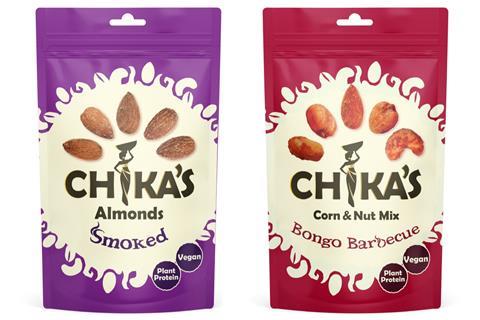 Healthy snack brand Chika's is expanding its online presence with new listings on Amazon and Ocado.
It has secured listings at Ocado for 10 SKUs, which will launch at the online retailer on 27 January.
They are: Smoked Almonds, Sea Salt & Black Pepper Cashews, Corn & Nut Bongo BBQ Mix, Wholegrain Rice & Lentil Crisps in Sour Cream & Chive, Smoky BBQ, Salt & Vinegar and Lightly Salted, and Luxury Nut Drums in Salted Caramel, Sweet Cinnamon and Coca & Raspberry.
Meanwhile, Whole Grain Rice & Lentil Crisps have launched onto Amazon in five flavours: Smoky BBQ, Salt & Vinegar, Lightly Salted, Sweet Chilli Samba and Sour Cream & Chive.
The African-inspired brand, which was founded by English-Nigerian entrepreneur Chika Russell in 2015, said it was focused on three key principles: good food, good ethos and good causes.
In 2019, it partnered with WorldVision to launch Snacks4Change, a programme which supports girls through education, and forms part of Chika's commitment to giving back to the communities that inspired the products.
For every pack sold, it donates 1p to the cause, with the aim of educating 30,000 girls by 2025.